Harm Reduction Legal Project
Opioid Misuse and Overdose Prevention
Substance Use Prevention and Harm Reduction
A Decade of Both Progress and Missed Opportunities to Reduce Drug-Related Harm
June 16, 2021
Overview
The United States continues to face an unprecedented crisis of drug-related harm. Despite increased attention to the epidemic, the number of people in America lost to overdose has increased nearly every year over the past decade, and preliminary estimates suggest that 2020 was the deadliest year ever recorded. While much of the attention has focused on opioids, the number of people who died of methamphetamine and other stimulants has increased dramatically in recent years, as have cases of endocarditis and other preventable infections caused by lack of access to safe, sterile injection supplies and locations.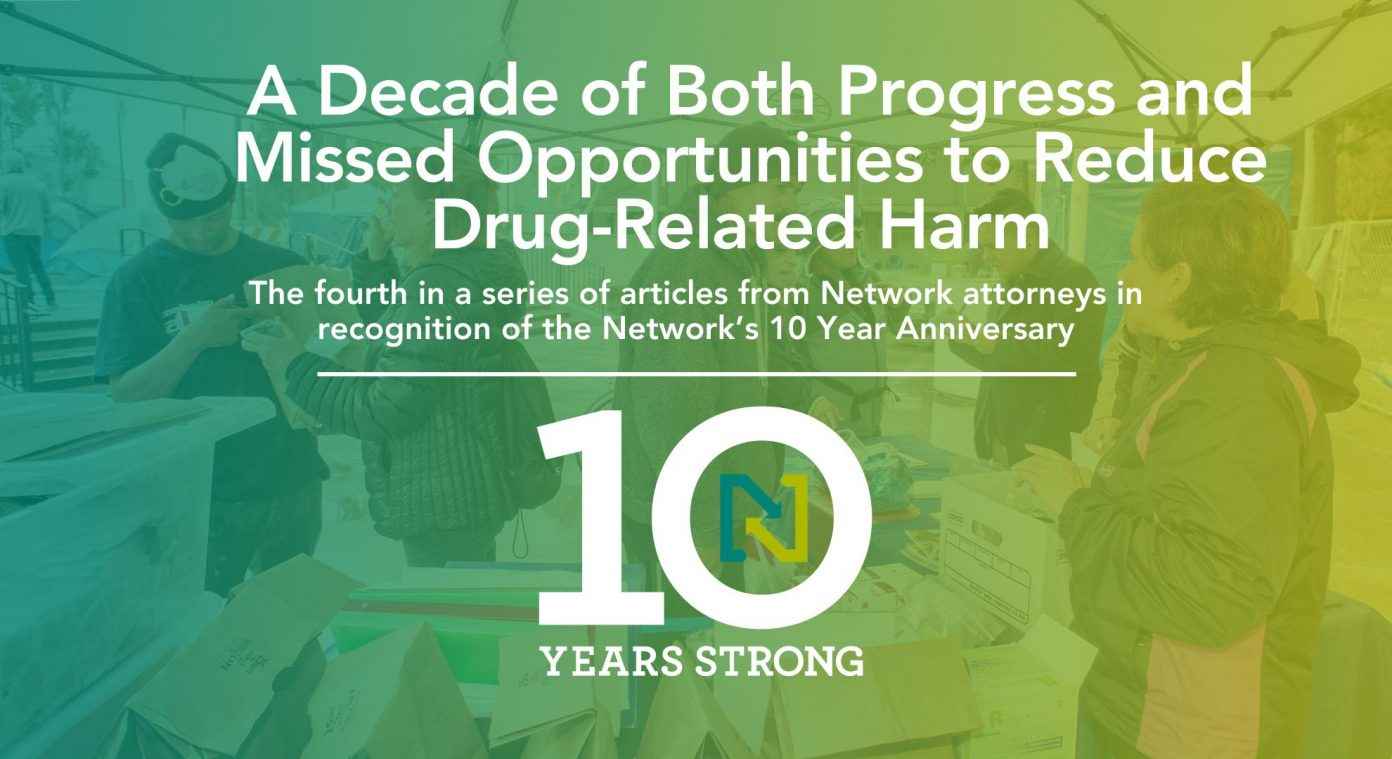 Unfortunately, law all too often works to increase, rather than decrease, risks to people who use drugs. Despite repeatedly claiming that "we can't arrest our way out" of the crisis, law at the federal, state, and local levels often treats people who use some drugs primarily as criminals who should be arrested, prosecuted, and incarcerated, not individuals worthy of care, dignity, and respect. Indeed, more people are arrested for drug-related crimes than any other type of crime, and over 85 percent of those arrests are for simple possession. As with nearly all manifestations of the American criminal legal system, these deprivations of liberty fall disproportionately on Black and other non-white people.
Despite all evidence that the racist, classist approach called the "War on Drugs" increases harm, it continues to be pursued. Over the past decade nearly a dozen states have passed "drug induced homicide" laws that often penalize not drug traffickers but rather low-level dealers and friends of the person who overdosed. Over three dozen have passed laws to increase fentanyl-related penalties. Despite overwhelming evidence that syringe services programs (SSPs) reduce risk of bloodborne disease among people who use drugs as well as other members of the community, West Virginia has recently passed legislation that will make it extremely difficult for these programs to operate, and several municipalities in California have succeeded in shutting down SSPs within their borders.
Federal laws and actions continue to actively increase harms to people who use drugs as well. When Philadelphia announced that it would support the operation of an overdose prevention site where people can use drugs under the supervision of trained staff, then-Deputy Attorney General Rod Rosenstein published an editorial denouncing the sites, which he falsely claimed "facilitate addiction." In February 2019, the US Attorney for the Eastern District of Pennsylvania filed a declaratory judgment action against the proposed facility, arguing that it was prohibited by the federal "Crack House Statute". While Judge McHugh in the Eastern District found the sites to be legal, DOJ appealed and the decision was overturned by the Third Circuit.
The Biden Administration has done nothing to signal that the DOJ has changed its stance on the legality of these sites, which operate in many cities worldwide. While the Office of National Drug Control Policy recently touted its proposed Fiscal Year 2022 budget as calling for "historic levels of funding to prevent and treat addiction," it continues to spend tens of billions of dollars on law enforcement and interdiction activities. Meanwhile, the Department of Health and Human Services is barred by statute from spending federal funds on syringes for SSPs.
It's not all doom and gloom. All states have passed laws increasing access to the overdose reversal medication naloxone, the vast majority of them since 2010. Similarly, nearly all states have passed overdose Good Samaritan laws that provide some protections for people who seek help in an overdose as well as the person who overdosed. Dedicated advocates have succeeded in legalizing SSPs in several states, although these laws all exist in the context of criminalization of some drugs and the people who use them. Oregon, often at the forefront as a laboratory of democracy, has effectively decriminalized possession of small amounts of drugs—although the law permits police to continue to stop, harass, and fine people who have them.
To its credit, the federal government acted quickly in response to the COVID-19 epidemic to remove some legal and regulatory barriers to medication assisted treatment for opioid use disorder, although many of those changes will revert once that crisis is over. Similarly, the Biden Administration has made it slightly easier for some providers to prescribe buprenorphine for treatment of opioid use disorder, although it remains more difficult to prescribe that lifesaving medication than any other opioid other than methadone. The Network has provided legal technical assistance to the public health community, officials, advocates, and medical professionals on these and many other issues since its inception, and through the Network's Harm Reduction Legal Project, created in late 2019, is helping to push back against harmful initiatives and provide support to those trying to create safer, healthier environments for everyone in the community.
Every system is perfectly designed to produce exactly the results it's producing. The war on drugs is a war on people. If we want a system that provides care and healing and not ever-increasing harm, we need to change the system. While possible, that will take a conscious, sustained effort to change law, policy, and practice to embrace a harm reduction oriented, public health focused approach to drugs and people who use them.
The Network's Harm Reduction Legal Project is here to provide free, confidential legal technical assistance to anyone working to navigate the current system—or change it for the better.
This post written by Corey Davis, Deputy Director, Network for Public Health Law Southeastern Region Office; Director, Network for Public Health Law Harm Reduction Legal Project.
The Network for Public Health Law provides information and technical assistance on issues related to public health. The legal information and assistance provided in this document do not constitute legal advice or legal representation. For legal advice, readers should consult a lawyer in their state.
Support for the Network is provided by the Robert Wood Johnson Foundation (RWJF). The views expressed in this post do not represent the views of (and should not be attributed to) RWJF.