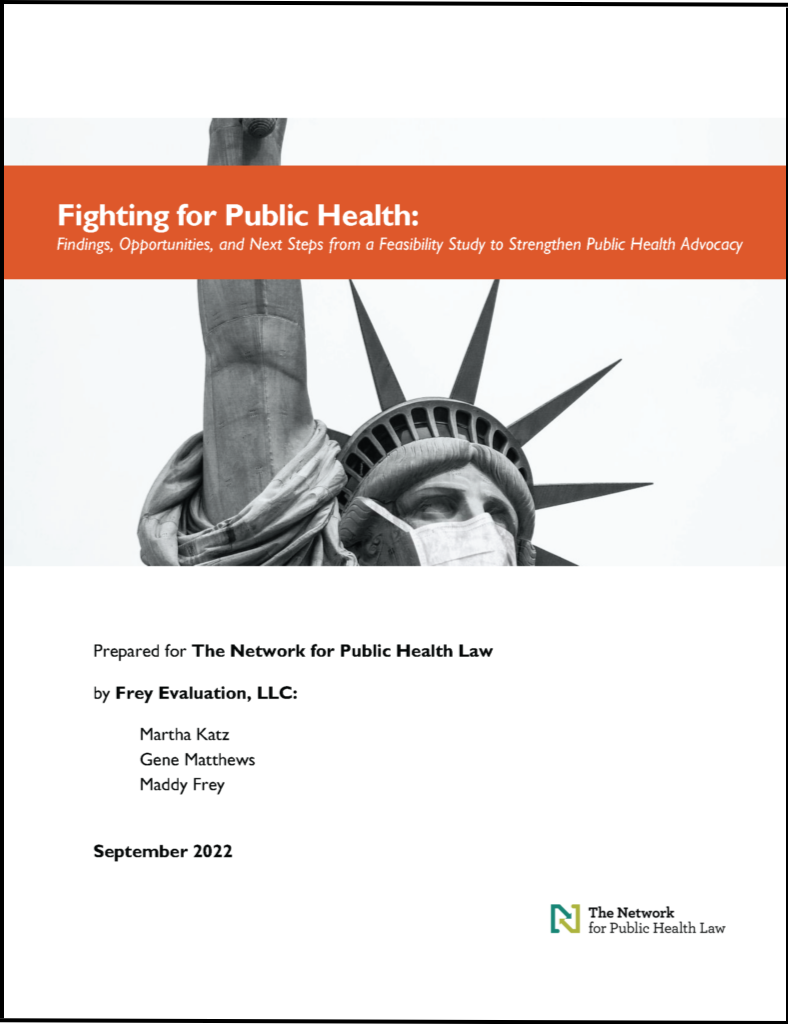 Fighting for Public Health:

Findings, Opportunities, and Next Steps from a Feasibility Study to Strengthen Public Health Advocacy
Public health's ability to protect and promote healthy communities is being directly impacted by the politicization of once-widely accepted practices such as vaccinations and the declaration of public health emergencies. In light of the current climate of eroding trust and falling investments in public health, a critical question has emerged: How do we strengthen public health advocacy at local, state, and national levels?
This feasibility study, commissioned by the Network, includes insights gathered from personal interviews with public health advocates and leaders from 45 organizations. The purpose of this report is to stimulate wide-ranging discussion and engage those who share a sense of urgency in collective, purposeful action to strengthen public health advocacy in the United States.
The study proposes a menu of potential actions to strengthen public health advocacy. We would like to know how these proposed actions resonate with you and invite you to share your comments and insights with us at info@networkforphl.org.
Those of us who know the critical importance of public health, know that we must reimagine our role as advocates for our work and build a collective understanding and voice in which we can do so. This study is intended to serve as a vehicle for taking the next important steps in that direction. We look forward to hearing from you.
Join the conversation! We invite you to read and respond to the study.
View the Report and the accompanying PowerPoint 
This feasibility study and report are funded and made possible by the Network for Public Health Law, Healthcare Georgia Foundation, and Montana Healthcare Foundation. The Network for Public Health Law and Frey Evaluation are solely responsible for the statements and conclusions included in this report.
---
The Network for Public Health Law
The Network for Public Health Law (Network) believes in the power of public health law and policy to improve lives and make our communities safer, healthier, stronger and more equitable. The Network provides non-partisan legal technical assistance and resources; and collaborates with a broad set of partners across sectors to expand and enhance the use of practical legal and policy solutions.
The Healthcare Georgia Foundation
Created in 1999 as an independent, private foundation, Healthcare Georgia Foundation's mission is to enable, improve, and advance the health and well-being of all Georgians.
The Montana Healthcare Foundation
The Montana Healthcare Foundation makes strategic investments to improve the health and well-being of all Montanans, supporting access to quality and affordable health services, conducting evidence-driven research and analysis, and addressing the upstream influences on health and illness.
---