COVID-19
Mechanisms for Advancing Public Health
Legislation and Legal Challenges
Public Health Funding and Infrastructure
Innovative Laws and Policies for Public Health: How Insights from Public Health Departments Shaped an Analysis of Forward-Looking Policies
July 25, 2023
Overview
The Network for Public Health Law's latest report, Innovative Law and Policy Strategies for a Post-Pandemic Public Health System, highlights examples of laws and legal levers implemented across the country that strengthen public health in the key categories of funding, governance, health equity, infrastructure, workforce, and public health interventions and emergency orders. The examples in the report were selected based on three core public health values: (1) evidence-based decision-making, (2) good governance, and (3) health equity, anti-racism, and fairness.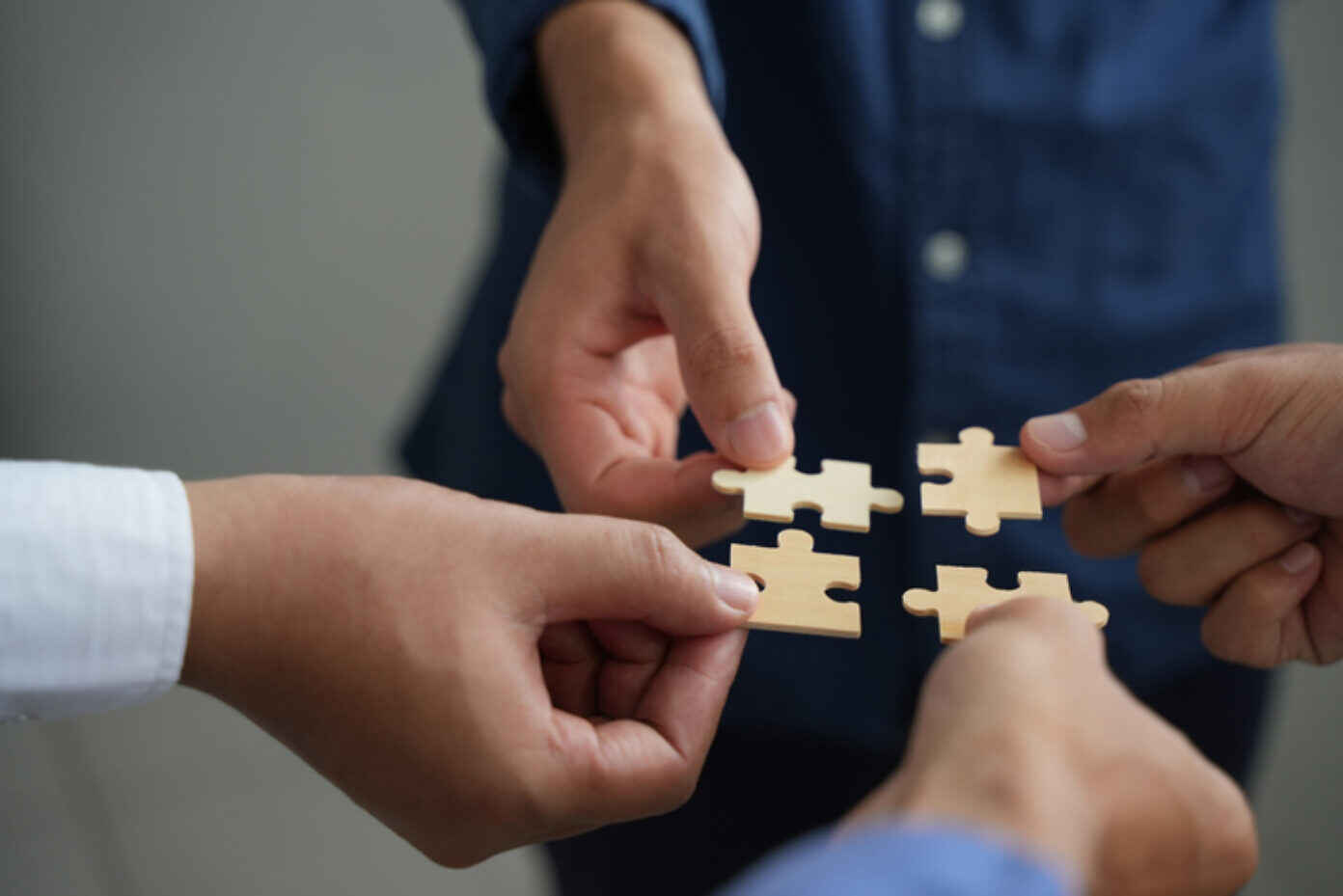 The report was inspired and shaped in large part by three questions raised by public health practitioners in the field in three different states.
"What are you hearing from other states?"
In January of 2021, a public health practitioner in Montana contacted the Network with some concerns about legislation being introduced in her state. She asked what we were hearing from other states. Soon, the Network began hearing from practitioners in state after state about what seemed to be a relatively cohesive nationwide legislative agenda to block public health interventions aimed at preventing the spread of COVID-19. We collaborated with the National Association of County and City Health Officials (NACCHO), Johns Hopkins University, and other partners to track and analyze this troubling legislation and produced a report on Proposed Limits on Public Health.
The legislative onslaught continued into special sessions in the summer and fall, fueled by vocal critics of public health interventions, despite mounting evidence of the effectiveness of the increasingly tailored interventions in stemming the tide of COVID while allowing a return to more "normal" routines. The Network joined with public health law partners to form Act for Public Health (Act4PH) in the fall of 2021. Throughout 2022, the Act4PH team continued to monitor legislative trends and analyze their implications, while partners at the American Public Health Association, American Heart Association, and Local Solutions Support Center lent support for state-based coalitions advocating for public health and local community voices. Colleagues also tracked and analyzed judicial opinions related to the exercise of public health powers.
"What should we be doing?"
During a virtual presentation by the Network in the spring of 2021 describing the troubling bills being introduced across the nation, a practitioner from Wisconsin asked, "These proposed laws are of great concern; what should we be doing to respond more effectively to the pandemic, from a legal perspective?"
By this point, the Network had already contributed to two sets of recommendations on legal responses to COVID. Prompted in part by this practitioner's question, the Network would publish an initial analysis of opportunities to strengthen public health soon thereafter. Others were asking similar questions. The Bipartisan Policy Center, CDC Foundation, National Network of Public Health Institutes, the Rippel Foundation and Commonwealth Fund, all gathered thought leaders to discuss the future of public health. The Network and our public health law partners were part of some of these efforts.
As the pandemic wore on, demand for insights on "bright spots" policies grew. Public health leaders were hungry for examples of specific laws and policies that had moved from recommendation to adoption and implementation. We needed proof that these laws were not just good ideas in the abstract, but could survive and make a difference in the real world.
Slowly but steadily, we began to get inspired. We learned about public health modernization—how years-long conversations between and among practitioners and policymakers were leading to a durable understanding of the value of foundational public health services and the need for adequate, stable funding in order to provide those services to every person in a state.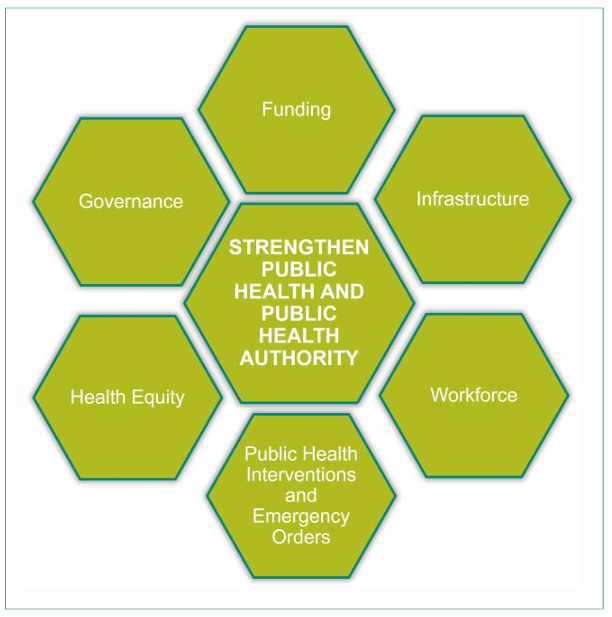 And we collected examples of how equity was being incorporated into public health interventions—through declarations of racism as a public health crisis; health equity task forces; racial equity impact assessments, data collection and disaggregation; vaccine access, allocation, and distribution; community engagement compensation programs; and strengthening support for community health workers.
A "honeycomb" framework emerged, with six categories of innovative laws and policies: funding, governance, health equity, infrastructure, workforce, and public health interventions and emergency orders. We examine and discuss the six categories in detail in the report and more concisely in a forthcoming executive summary.
"How did they decide on their approach to improving the public health system?"
During a live roundtable discussion at the APHA Annual Meeting in the fall of 2022, we compared the approaches to public health modernization in neighboring states Washington and Oregon. In Washington, there has been a strong emphasis on ensuring that governmental public health has the resources to provide foundational public health services to every person in the state. In Oregon, there has been an emphasis on strengthening the delivery of foundational public health services by deepening and expanding partnerships between governmental public health and community-based organizations. A practitioner from Kansas asked, "How did they decide which approach to adopt?"
Upon reflection, we realized that the legal, political, cultural, and economic conditions in Washington and Oregon were part of the answer, but more factors are in play in those states and in any jurisdiction. Values and ethics fundamentally shape our advocacy and policy choices, and so this is also addressed explicitly in the Network's report. As previously mentioned, the three values that rose to the top in drafting the report are (1) evidence-based decision-making, (2) good governance, and (3) health equity, anti-racism, and fairness.
How will what we've learned shape what we do next?
As we release this report on Innovative Law and Policy Strategies for a Post-Pandemic Public Health System, a fourth question is coming to the fore. How will the lessons learned over the past three years shape what we in public health do next?
As this report demonstrates, there is a wide array of tools which extend far beyond direct regulation that public health law can bring to bear in meeting the public health challenges ahead. We encourage health departments and communities to consult this report for ideas and inspiration for policy development. The Network will continue to search out innovative laws and policies to increase health equity, to modernize and strengthen the public health system, to support capacity and resilience in the public health workforce and the general population, and to improve environmental health, including climate mitigation and adaptation. And we will continue to contribute to the conversation about the legal, normative, and ethical framework for a more equitable and adaptive public health system. As always, we will be listening for thoughts and questions from practitioners on the front lines.
This post by Jill Krueger, J.D., Director, Network for Public Health Law – Climate and Health.
The Network for Public Health Law provides information and technical assistance on issues related to public health. The legal information and assistance provided in this document do not constitute legal advice or legal representation. For legal advice, readers should consult a lawyer in their state.
Support for the Network is provided by the Robert Wood Johnson Foundation (RWJF). The views expressed in this post do not represent the views of (and should not be attributed to) RWJF.