Overview
A public health physician is seeking clarification of his/her duties in light of Michigan Governor Whitmer's Emergency Declaration (Executive Order 2020-104) to increase COVID-19 testing. Does testing for COVID-19 establish a physician-patient duty to patients for whom a physician orders or conducts a test? Is it legally permissible to order these tests when no assessment is made on the tested patients?
As explained in detail below, the answer to the first question is that Michigan law imposes a limited duty, but with immunity from personal liability. The answer to the second question is yes.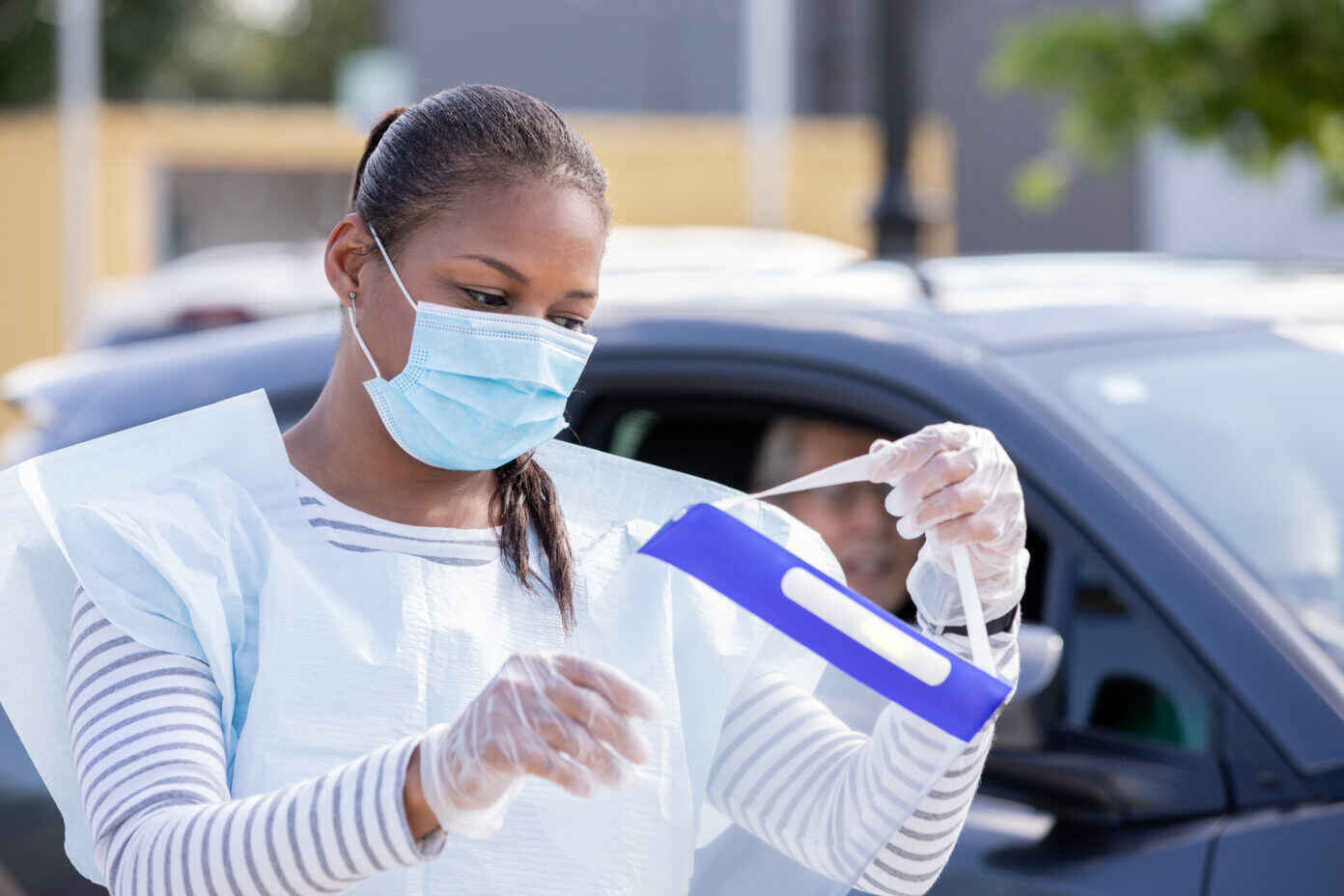 1. Does testing for COVID-19 establish a physician-patient duty to patients for whom a physician orders or conducts a test?
Duty
Under Michigan law, the physician would not have a traditional physician-patient relationship based on ordering or conducting a screening test. Clearly, no explicit or implicit contractual arrangement exists in conducting a COVID-19 test and sending the results to a lab for analysis.
But the Michigan Supreme Court appears to have created what it terms a limited physician-patient relationship in Dyer v. Trachtman, 679 N.W.2d 311 (Mich. 2004). Dyer involved an independent medical examination (IME) where the examining physician aggravated the plaintiff's injury. The court concluded that "…an IME physician has a limited physician-patient relationship with the examinee that gives rise to limited duties to exercise professional care.…The limited relationship imposes fewer duties on the examining physician than does a traditional physician-patient relationship. But it still requires that the examiner conduct the examination in such a way as not to cause harm."
In Paul v. Glendale Neurological Associates, P.C., 848 N.W.2d 400(Mich. App.2014), the court, citing Dyer, said that "…this duty does not constitute a duty to diagnose or treat an examinee's medical conditions." (See also, Hawthorne-Burdine v. Banks, 2018 Mich. App.LEXIS 563, for a similar conclusion). Neither the Dyer opinion nor any other Michigan case I could find examines how the limited duty will be determined in practice.
Certainly, testing is very different from the IME process. Even if the two are analogous, it is difficult to imagine a sufficient factual scenario to satisfy the elements of the medical liability standard. In the unlikely event of a medical liability claim, MCL 333.2465 provides further protection for local public health officials:
(2) A local health officer or an employee or representative of a local health department is not personally liable for damage sustained in the performance of local health department functions, except for wanton and willful misconduct.
Although the Code does not define willful and wanton misconduct, Michigan case law holds that it may be found "…if the conduct alleged shows an intent to harm, or, if not that, such indifference to whether harm will result as to be the equivalent of a willingness that it does."
Immunity
A physician would also have qualified immunity under Michigan law. The plaintiff would need to show gross negligence to overcome the immunity, a virtual impossibility in the testing context. A physician would also have immunity pursuant to an Advisory Opinion issued by the General Counsel, Department of Health and Human Services, under the Public Readiness and Emergency Preparedness (PREP) Act, May 19, 2020 (https://www.hhs.gov/sites/default/files/prep-act-advisory-opinion-hhs-ogc.pdf) setting a high threshold for claims.
The Governor's Executive Order 2020-104 (COVID-19) (May 26, 2020) states at paragraph 8:
Insofar as section 11 of the Emergency Management Act, MCL 30.411, remains in effect, anyone establishing, volunteering, or working at a community testing location constitutes personnel of a disaster relief force, and, with respect to the activities of COVID-19 testing, are entitled to the same rights and immunities as provided by law for the employees of this state under MCL 30.411(1)(c).
Equally important, under MCL 30.411(4), a physician:
…is not liable for an injury sustained by a person by reason of those services, regardless of how or under what circumstances or by what cause those injuries are sustained. The immunity granted by this subsection does not apply in the event of an act or omission that is willful or gross negligence. If a civil action for malpractice is filed alleging an act or omission that is willful or gross negligence resulting in injuries, the services rendered that resulted in those injuries shall be judged according to the standards required of persons licensed in this state to perform those services.
Under MCL 691.1407(8)a, gross negligence is defined as "conduct so reckless as to demonstrate a substantial lack of concern for whether an injury results."
In turn, MCL 30.411(3) states:
The employees, agents, or representatives of this state or a political subdivision of this state and nongovernmental disaster relief force workers or private or volunteer personnel engaged in disaster relief activity are immune from tort liability to the extent provided under section 7 of 1964 PA 170, MCL 691.1407.
Here's where the analysis gets convoluted, but this should not change the result. MCL 691.1407(4) "…does not grant immunity to a governmental agency or an employee or agent of a governmental agency with respect to providing medical care or treatment to a patient, except…tactical operation medical assistant." The Act defines tactical operation medical assistant as an individual licensed to practice medicine, osteopathic medicine, and surgery, while engaged in a tactical operation.
Unfortunately, tactical operation is defined as "a coordinated, planned action by a special operations, weapons, or response team of a law enforcement agency that is 1 of the following, including: (i) Taken to deal with imminent violence, a riot, an act of terrorism, or a similar civic emergency. Although it is likely that a COVID-19 test would be conducted in the context of a civic emergency, that term is not defined in the statute and may not be appropriately linked to imminent violence. But because MCL 30.411(3) defines disaster relief activity broadly to include training for or responding to an actual, impending, mock, or practice disaster or emergency, this section should not be read to undermine a physician's immunity.
Frankly, the previous paragraph is not easy to interpret. Nonetheless, it seems that the specific immunity provision of MCL 30.411(4) should control. In any event, no contrary interpretation would make sense when the goal is to encourage medical professionals to participate in COVID-19 testing sites.
2. Is it legally permissible to order these tests when no assessment is made on the test subjects?
Yes, depending on what is meant by assessment. Assuming that the term means some form of direct consultation with the patient regarding the test and its results, it is similar to tests frequently conducted by public health professionals and physicians. In addition, standing orders are commonly used in public health for these purposes, including routine STD tests.
For example, health departments in Michigan are required to conduct screening programs regardless of any subsequent treatment, including newborn screening (MCL 333.5431) (requiring positive results to be conveyed to the parents or guardian). Screening for vision and hearing is instructive (MCL 333.9303):
Sec. 9303. (1) The department shall establish and administer a program to assist local health departments in developing and maintaining periodic hearing and vision testing and screening programs for children.
Sec. 9309. If it appears as the result of a testing and screening program that the hearing of a child may be impaired, the department shall conduct or cause to be administered individual testing and screening with approved scientific instruments for determining the hearing efficiency of the child.
Sec. 9305. (1) When the result of a hearing or vision testing or screening indicates that a child requires follow-up care, a professional authorized by law, a local health department, or other agency shall present the person bringing the child a written statement clearly indicating that follow-up treatment is required. (2) The local health department, upon request, shall provide information concerning the availability and sources of vision and hearing treatment required to eliminate or reduce an identified problem.
Taken together, these sections indicate an expectation that the state or local health department will take responsibility for follow-up assessment and treatment. Presumably, a licensed medical practitioner would conduct the screening.
The Network for Public Health Law provides information and technical assistance on issues related to public health. This memo should not be considered legal advice or representation. For legal advice, please contact your attorney.