Maternal and Child Health
Mechanisms for Advancing Health Equity
Medicaid
Mental Health and Well-Being
Women's History Month: Network Attorneys Discuss Law and Policy Solutions to Promote Women's Health & Wellbeing
March 24, 2021
Overview
In honor of Women's History Month, we are highlighting select legal or policy issues affecting women's health including: economic stability and well-being, pregnancy discrimination, and maternal depression. The law and policy solutions discussed have the potential to improve life for women and girls for generations to come.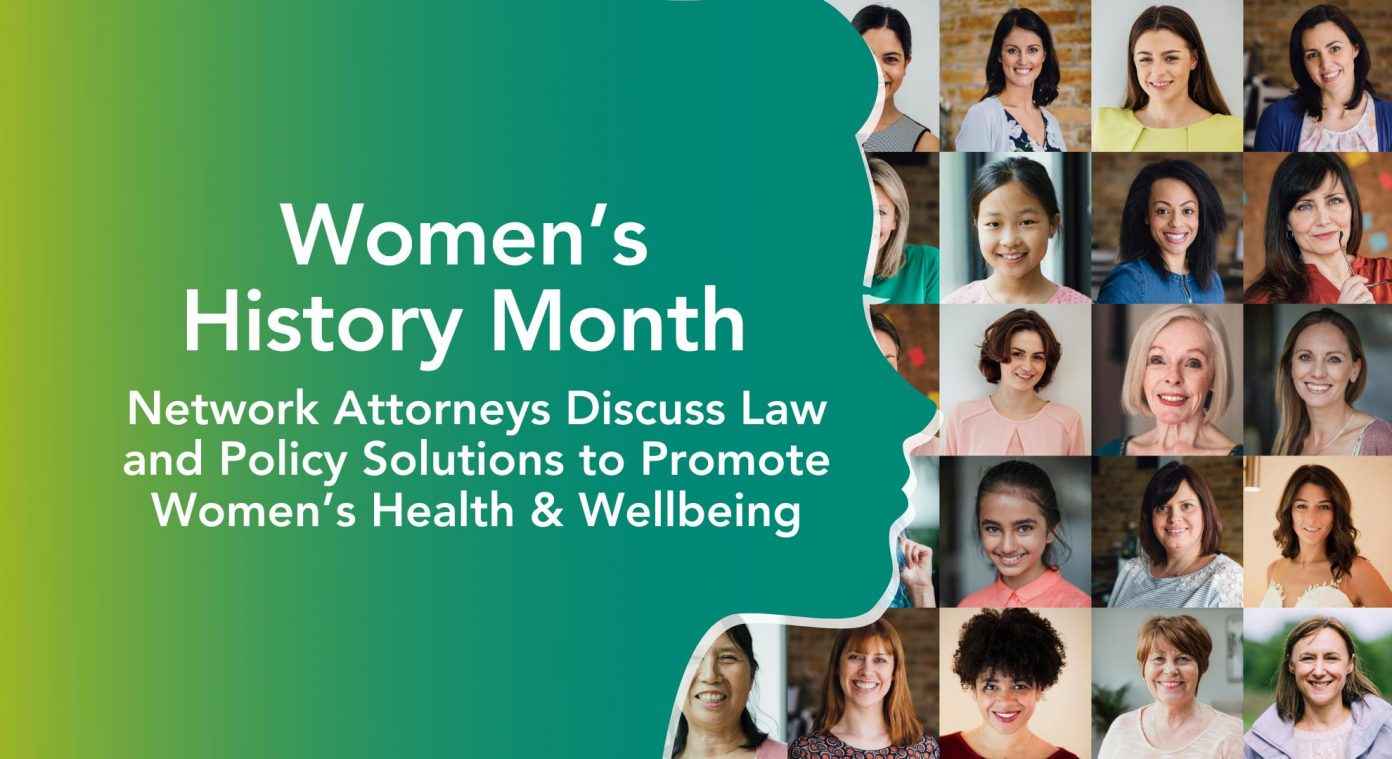 Period Poverty and Stigma
April Shaw, Staff Attorney, Northern Region Office
With Scotland becoming the first country to make period products free, now is the time to consider how we can use law and policy to end period poverty in the U.S. Period poverty generally refers to the lack of affordability of period-related products, such as tampons, pads, or pain medication, especially for individuals with low incomes. For example, in a needs assessment of low-income women in St. Louis, 21 percent of women reported lacking menstrual-hygiene products on a monthly basis, and 46 percent reported being unable to afford both food and period products the previous year. Non-profits providing free menstrual products have reported being "flooded with need" during the COVID-19 pandemic. Although the CARES Act made menstrual product costs reimbursable from flexible and health savings accounts, critics pointed out this did little to assist low-income individuals who are prohibited from using SNAP or WIC benefits to purchase menstrual products. Moreover, the Menstrual Equality for All Act, which would greatly increase access to menstrual products, has stalled in Congress.
Period stigma is also a problem. A few years ago, young girls of color at a Bronx middle school created a podcast called "Marshmallow" highlighting the issue. They discussed how school staff directed students to use the code-word "marshmallow" when they needed a pad or tampon from the school office. They found that a majority of their female peers reported not feeling comfortable discussing their period at school: 33 percent also considered periodsto be "a dirty topic." Such stigma is exacerbated when individuals (women, girls, and transgender and non-binary people) are forced to use inadequate period hygiene methods like rags, newspapers, or toilet paper.
Resolving these issues requires a three-pronged approach that goes beyond ending the tax on period products. First, the U.S. should follow Scotland's lead. Second, expansion of access to menstrual products should be sustainable and include access to reusable period products (with invaluable consciousness raising on the environmental impacts of disposable period products).  Finally, public health departments should incorporate anti-period stigma measures into youth mental health promotion campaigns. These three steps will target period poverty and stigma as part of a larger public health framework that encompasses the intersection of mental health, gender equity, and environmental sustainability.  

Guaranteed Income Proposals to Improve Financial Security and Wellbeing
Carrie Waggoner, Senior Attorney, Mid-States Region
COVID-19 has disproportionately affected women economically, particularly women of color. Nearly 3 million women have left the workforce since the beginning of the COVID-19 pandemic, many to care for a child. Of the 140,000 jobs lost in December 2020, all were held by women. Even before the pandemic, the burden of choosing between paid work and family care was a choice disproportionately borne by women. Two income-related policies have the potential to make a measurable difference in the lives of women and their families and therefore in women's history:
The increase to the Child Tax Credit that was signed into law on March 11 as part of the American Rescue Plan Act of 2021 (ARPA; P.L. 117-2). For the 2021 tax year, the ARPA expands the maximum age to receive the credit to 17, makes the credit fully refundable, and increases the maximum amount of the credit to $3,600 for children 0-5 and $3,000 for children 6-17 years old. Taxpayers will receive half of the expected 2021 credit in periodic payments starting in July 2021, delivering additional income of up to $300 per month per child to families.
These changes to the Child Tax Credit are expected to lift 4.1 million children above the poverty line, reducing the child poverty rate by 40 percent. It will also provide much-needed financial support to women and their families. Families tend to spend tax refunds to pay bills, reduce debt, and make purchases they might not otherwise be able to. The ARPA provides a safe harbor to protect taxpayers from repayment of up to $2,000 per child if the error in payment was due to net changes in the number of qualifying children. These changes are only for 2021 and will need to be made permanent in order to have an enduring impact on the financial security of women and their families.
Universal basic income: The Stockton Economic Empowerment Demonstration (SEED) in Stockton, California gave 125 randomly selected residents living in neighborhoods with a median income at or below $46,033 $500 per month for two years. The payments had no conditions or requirements attached to them. Participants were studied from February 2019 – February 2020. The researchers found that the guaranteed income provided greater income stability, enabled more residents to find full-time employment, and alleviated financial scarcity, which provided participants with new opportunities for goal-setting and self-determination, among others. In addition, the participants were healthier, both physically and emotionally. A number of other guaranteed income pilot projects are in the works in places like Durham, North Carolina, New Orleans, Louisiana, and Gary, Indiana. Most of the pilot projects are for a one-year period. As with the Child Tax Credit, these types of programs will need to be made permanent to have a lasting impact on financial security.

Raising the Minimum Wage to Improve Health and Well-being for Women and Their Families
Colleen Healy Boufides, Deputy Director, Mid-States Region
Women in the U.S. represent a majority of low-wage workers (almost two-thirds) and an even greater majority of tipped workers (more than two-thirds), despite comprising less than 50 percent of the total workforce. Women of color are particularly overrepresented among low-paid workers, accounting for 30.6 percent of low-paid workers but only 17.3 percent of the overall workforce. As a result, women—and especially women of color—are disproportionately affected by the indefensibly low federal minimum wage and tipped minimum wage. The federal minimum wage has been $7.25 per hour since 2009 and amounts to approximately $15,000 per year for a person working full-time (for reference, the 2021 federal poverty level for a family of four is $26,500). Even more outdated is the federal tipped minimum wage of $2.13 per hour, which hasn't been raised since 1991. The tipped minimum wage assumes that employees will earn enough money in tips to cover the difference between the tipped and non-tipped minimum wages and requires employers to make up the difference when that is not the case; however, employers often fail to comply with this requirement, meaning that tipped employees frequently make less than $7.25 per hour.
There are several legal strategies that could help to increase wages and lift women and their families out of poverty. First is amending the Fair Labor Standards Act (FLSA) to raise the federal minimum wage and eliminate the separate minimum wage for tipped workers, as well as indexing the minimum wage to an external metric (e.g., inflation, national median wage, or cost of living) to prevent stagnation. Although a federal "Raise the Wage Act" (or similar) has been introduced in Congress several times in recent years, including in 2021, these measures have not yet become law. Fortunately, many states and cities have taken action by implementing a higher minimum wage within their jurisdictions, prohibiting tips from being counted towards hourly pay, and/or indexing the minimum wage to inflation. Some states have taken additional actions, such as applying different minimum wages to different regions of the state (e.g., Oregon), varying the minimum wage by type of employer (e.g., Minnesota), or even varying the minimum wage according to whether an employer provides health benefits (e.g., Nevada). However, many states that have not raised the minimum wage on a statewide basis have preempted local minimum wage increases.
Raising the minimum wage—for both tipped and non-tipped workers—is an essential step to advancing pay equity between men and women, increasing economic stability for women, lifting hundreds of thousands of children out of poverty, and improving health and well-being for women and their families.

Maternal Depression
Jill Krueger, Regional Director, Northern Region
Many women who become mothers experience the "baby blues" during the first two weeks after childbirth, but for about one in eight women, especially those experiencing acute or chronic stress, the feelings last longer and are more intense. Maternal depression can last for a year or more, can entail symptoms of major depression (persistent sadness, irritability, feelings of inadequacy, anxiety, fatigue, overwhelm) and interfere with daily life.
Parenting a baby can be an isolating experience in the best of times, and for those who have given birth this past year, the isolation may have been magnified as a result of the pandemic. Evidence indicates that interventions to screen for and address social needs and build upon community assets, including through counseling and ongoing support, are promising, particularly with respect to women who may also be experiencing intimate partner violence or women who are able to access culturally-rooted self-help networks.
A comprehensive strategy to prevent, identify, and treat maternal depression and promote maternal mental health has not been implemented anywhere in the U.S., but legal and policy advances are being made, including during the past year. In 2016, CMS issued guidance to states on covering maternal depression within the context of well-child visits covered by Medicaid. The American Rescue Plan Act authorizes states to adopt Medicaid plan amendment options to extend coverage for women for a full year post-partum beginning in 2022. The 21st Century Cures Act provided funding for competitive grants to states to support screening and treatment for maternal depression, and a growing minority of states have adopted laws to expand screening and treatment for maternal depression, as well as increase their effectiveness. Changes to federal and state law to expand access to telehealth, including tele-mental health, has increased treatment options for those experiencing maternal depression during the pandemic. The Affordable Care Act has expanded and improved prevention services and support for mothers, as with the Maternal Infant and Early Childhood Home Visiting program. The growth in state laws and federal policies to provide paid family leave enhances economic stability and reduces the risk of onset of maternal depression. Preventing, screening for, and effectively treating maternal depression and supporting parents improves women's health and strengthens the health of families and communities.

Accommodations for Pregnant Workers
Dawn Hunter, Deputy Director, Southeastern Region
Women are increasingly likely to work while pregnant and to work later into pregnancy. Thanks to the Pregnancy Discrimination Act and the Americans with Disabilities Act (ADA), pregnant women have some protections against workplace discrimination and have rights to some accommodations for pregnancy-related medical conditions. Despite these laws, nearly 3,000 pregnancy discrimination claims are filed with the Equal Employment Opportunity Commission each year by women who are denied jobs, forced out of jobs, or denied accommodations, which places their health and economic stability at risk. The risk is even greater for Black women who, according to the CDC, are more likely to suffer certain pregnancy-related complications and who die at 2.5 times the rate of non-Hispanic white women as a result of pregnancy or delivery complications.
One way to address gaps in the law is through enacting legislation to provide a clear legal standard for pregnancy-related accommodations. As of September 2020, 31 states and four cities have passed laws requiring reasonable accommodations for pregnant workers. Most recently, the legislatures in Alabama and Mississippi have considered a state-level version of the Pregnant Workers Fairness Act (although the Mississippi bill died in committee in February 2021) and New Jersey has introduced a resolution calling on Congress to pass the federal Pregnant Workers Fairness Act, which has been introduced several times and has a reasonable accommodation framework similar to the ADA. Women make up nearly half of the U.S. workforce, and nearly one third of working women are mothers. Ensuring that there are protections for pregnant women in the workforce is one way to ensure healthy families and a healthy economy.

Access to Affordable, Quality Child Care
Leila Barraza, Senior Consultant, Western Region
Close to 3 million women have left the workforce since the start of the COVID-19 pandemic. One reason is that women traditionally carry a heavier load of child care and educational support responsibilities. According to researchers at USC Dornsife Center for Economic and Social Research, the percentage of working mothers who had the sole responsibility for child care and helping their children with schoolwork increased from 33 percent to 45 percent between the spring and summer of 2020. When compared to men and women without children, women with children also reported an increase in psychological distress in early April 2020.
In response to the pandemic, some child care centers have been designated specifically for children of essential workers and other child care centers have expanded to include older children of hospital workers. However, that has still left many parents without child care access and, moving forward, many more may lose access to care as many child care centers are at risk of closing permanently due to the lost income during the pandemic.
Access to affordable child care is not a new problem for working mothers, but one that has been exacerbated by the pandemic. A bill introduced in California in February 2021 would require employers with more than 1,000 employees to provide up to 60 accrued hours of paid childcare backup benefits to employees who have worked for the same employer for 30 or more days within one year. Most recently, the American Rescue Plan Act of 2021, signed into law by President Biden on March 11, 2021, attempted to address the child care crisis. The Act authorizes states to use Child Care and Development Block Grant funds "to provide child care assistance to health care sector employees, emergency responders, sanitation workers, and other workers deemed essential during the response to coronavirus by public officials." The Act also created an emergency child care stabilization fund to assist child care providers at risk of closing, and funds can be used for such items as rent, payroll, PPE, cleaning supplies, or mental health supports for children and employees. Certain laws or policies that improve access to and availability of child care have the potential to create long-term improvements that will improve women's physical, social, mental, and economic well-being.
The Network for Public Health Law provides information and technical assistance on issues related to public health. The legal information and assistance provided in this post do not constitute legal advice or legal representation. For legal advice, readers should consult a lawyer in their state.
Support for the Network is provided by the Robert Wood Johnson Foundation (RWJF). The views expressed in this post do not represent the views of (and should not be attributed to) RWJF.