COVID-19 and Health Equity
Mechanisms for Advancing Health Equity
Racism as a Public Health Crisis
Structural Racism and Public Health: News Round-Up
August 25, 2021
Overview
Long existing health disparities in the U.S. have been further exasperated by the COVID-19 pandemic. States, cities, and counties are increasingly recognizing the role that structural racism plays in perpetuating and maintaining these disparities. A sampling of recent news articles highlights both the advances that are being made, as well as some of the challenges that remain.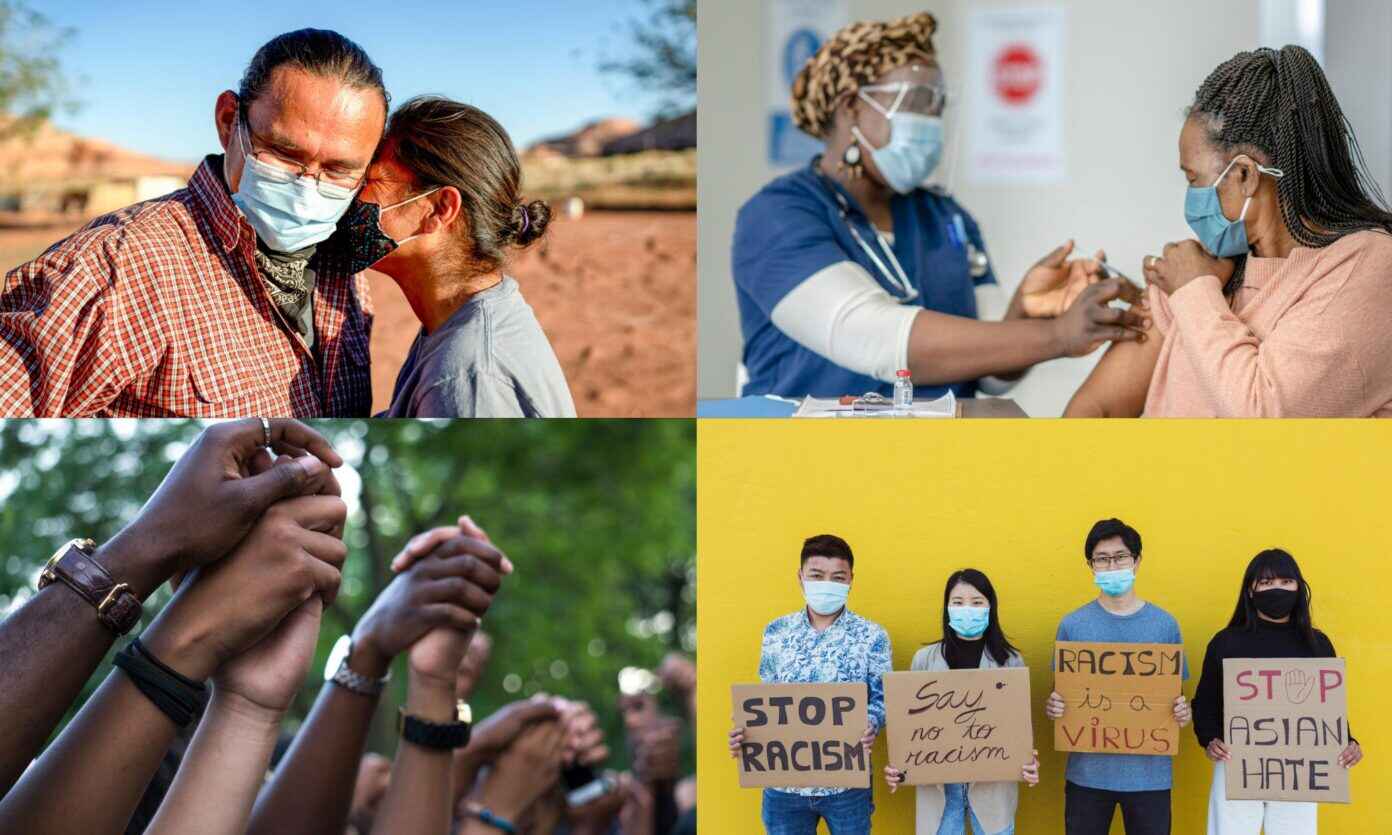 Pandemic Unveils Growing Suicide Crisis For Communities Of Color – Kaiser Health News & Science Friday, August 20
Overall suicide rates in the U.S. decreased in 2019 and 2020, but the data suggests that the downward trend was largely influenced by a drop in suicide rates among White Americans. Data collected from states and research conducted by experts show that suicide is a growing crisis for communities of color, and an issue that has been largely exacerbated during the Covid-19 pandemic.

Viewing Asian Americans and Pacific Islanders as a Monolith is Harmful – Bloomberg, August 17
Asian people now have the greatest income inequality gap of any racial group in the United States, but disparities in income, education, and health amongst Asian people largely remains invisible. Asian Americans and Pacific Islanders (AAPI) are often thought of as a monolith, shrouding the inequities that different communities face. The pandemic has largely impacted lower-income AAPIs, who suffer from high unemployment, high Covid-19 death rates, and other disparities.

Why Only 28 Percent of Young Black New Yorkers Are Vaccinated – New York Times, August 12
As the Delta variant continues to spread across the country, young Black New Yorkers remain among those who are distrustful of the vaccine. This vaccination gap is emerging as the latest stark racial disparity and epidemiologist say they expect this third wave to hit Black New Yorkers especially hard.

Who Are the Unvaccinated in America? There's No One Answer – New York Times, July 31
As coronavirus cases continue to rise across the United States, efforts are being directed towards those who are eligible for shots but have chosen not to get them. Many of these Americans belong to groups who are the most vulnerable to serious illness from delta variant and most likely to carry the virus, spreading it further.

Hundreds of communities declared racism a public health crisis. What's happened since? – USA Today, July 27
Hundreds of city, county and local governments have declared racism a public health crisis, a trend that public health experts applaud as an important first step to addressing the health impacts of systemic racism. While appearing similar, the actual steps communities have taken as a result of their declarations vary widely.

Black and Hispanic Americans Suffer Most in Biggest US Decline in Life Expectancy Since WWII – Kaiser Health News, June 24
The COVID-19 pandemic has highlighted the stark health inequities that Black and Hispanic Americans face, and has widened the already significant wealth gap in the United States. Millions of people—namely people of color—face increasing rates of poverty, hunger, and housing insecurity, and the ramifications of the pandemic may be felt for generations.

How Native Americans launched successful coronavirus vaccination drives: 'A story of resilience' – Washington Post, May 26
As Native American tribes get hit by the COVID-19 pandemic, tribes take on new approaches to increase vaccination rates. Vaccination success have been attributed to numerous factors which include tribal sovereignty which has given tribes the flexibility to create their own vaccination distribution methods, and a focus on cultural values which prioritize elders and the community.

Here's What The New Hate Crimes Law Aims To Do As Attacks On Asian Americans Rise – NPR, May 20
President Biden signed into law the COVID-19 Hate Crimes Act, created in response to the alarming rise of anti-Asian hate incidents since the start of the COVID-19 pandemic. The law will enable better reporting of hate crimes and will provide grants to state and local governments to conduct crime-reduction programs to prevent and respond to hate crimes.
The Network for Public Health Law provides information and technical assistance on issues related to public health. The legal information and assistance provided in this document do not constitute legal advice or legal representation. For legal advice, readers should consult a lawyer in their state.
Support for the Network is provided by the Robert Wood Johnson Foundation (RWJF). The views expressed in this post do not represent the views of (and should not be attributed to) RWJF.