Mechanisms for Advancing Public Health
Public Health Advocacy and Decision-Making
Science Denial and Public Health Law
February 22, 2023
Overview
During the height of the COVID-19 pandemic, "science denialism" — including misinformation and disinformation — was rampant, engendering opposition to vaccines and other disease mitigation measures, as well as a backlash against public health officials. Combating the spread of misinformation and disinformation requires working with trusted community members and increased government efforts to disseminate clear public health information.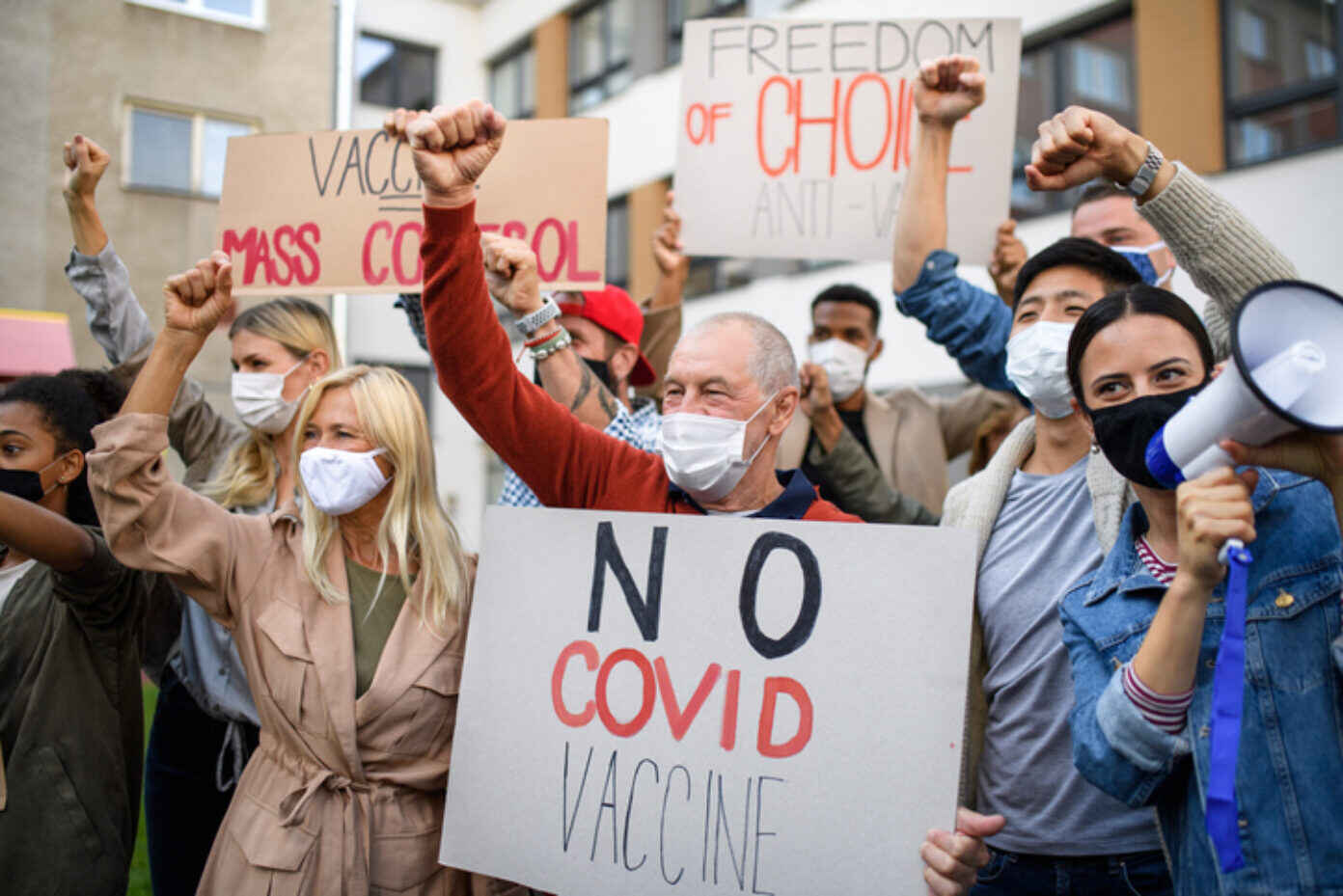 Public health law professionals who developed new or updated public health emergency response laws following the September 11, 2001 tragedy could not have envisioned the extent of the organized opposition to tried-and-true public health responses during the COVID-19 pandemic. State laws detailing emergency public health authorities—including quarantine, isolation, social distancing, and vaccination—were employed beginning in early 2020 to combat the spread of devastating novel disease. Despite efficacious policies, severe politization of key public health interventions and rampant misinformation resulted in constant disputes and litigation at all levels of government.
Misinformation can often be attributed to "science denialism," which has challenged public health efforts for decades. Lee McIntyre, a Research Fellow at Boston University's Center for Philosophy and History of Science, lists five common factors of science denialism in his 2021 book, How to Talk to a Science Denier: Conversations with Flat Earthers, Climate Deniers, and Other Who Defy Reason: (1) cherry-picking evidence; (2) belief in conspiracy theories; (3) reliance on fake experts (and the denigration of real experts); (4) committing logical errors; and (5) setting impossible expectations for what science can achieve. Additional examples of science denialism during the three years of the COVID-19 pandemic included misinformation (false or inaccurate claims) and disinformation (information created with the intent to deceive).
During the COVID-19 pandemic, science denialism related to unscientific and harmful treatment with hydroxychloroquine, ivermectin, and bleach had deadly consequences. Despite warnings from public health officials and widely-available information on inefficacy of these "treatments," many Americans still trusted pseudoscience over credible experts, resulting in preventable injury and death.
According to the U.S. Centers for Disease Control and Prevention, misinformation spread through social media and other communication channels continues to affect COVID vaccine confidence, causing more people to remain unvaccinated. Yet unvaccinated individuals are at greater risk of dying from COVID-19 or experiencing severe illness. A November 2021 survey conducted by Kaiser Family Foundation found that nearly two-thirds (64 percent) of unvaccinated adults believe, or are unsure of, common false statements about the COVID-19 pandemic and vaccine (for example, that the U.S. government was "overexaggerating" the pandemic, or vaccines caused infertility).
Surprisingly, a major source of misinformation comes from health care providers. A 2021 survey conducted by the Federation of State Medical Boards found that 67 percent of boards experienced an increase in complaints related to disseminating misinformation. One state has adopted a novel approach to address this issue by targeting health care providers. In October 2022, California Governor Gavin Newsom signed a state law designating "dissemination of [COVID-19] misinformation or disinformation" as "unprofessional conduct." Physicians found violating the law could face administrative sanctions from the state licensing board, including suspension and medical license revocation. Governor Newsom defended the bill as "narrowly tailored" since it only applies to cases where a health care provider acts with malicious intent or deviates from the standard of care. However, in January 2021, a federal judge blocked enforcement of the law while litigation ensues, reasoning that physicians could not determine if their conduct violated the law.
Due to science denialism and the politicizing of public health measures, state and local leaders who championed evidence-based COVID-19 responses experienced backlash over their pandemic actions. In Arizona, Pima County Health Director Theresa Cullen lost her nomination to lead the state health department in 2023 following harsh criticism of her support for school closures, vaccine mandates, and mask requirements. Even before the pandemic, public health leaders faced threats as a result of misinformation about vaccines. For example, California state senior Richard Pan was physically assaulted and verbally attacked over his efforts to tighten childhood vaccination requirements; the threats becoming so severe in 2019 that a restraining order and security detail became necessary.
The detrimental effects of misinformation have recently impacted reproductive health care. Following the Supreme Court's 2022 decision in Dobbs v. Jackson Women's Health Organization, certain states have banned abortion care and other reproductive health services. Many of these policies are based on misinformation. A 2016 National Partnership for Women and Families analysis found that 70 percent of state-level abortion restrictions were based on false information, inaccurate stereotypes, and cherry-picked "science." Specific attacks on access to the "Morning After Pill" emergency contraception are grounded in inaccuracies that the medication is actually an abortifacient. For example, a 2022 Tennessee bill included criminal penalties for prescribing the drug.
Women of color are disproportionately targeted by misinformation regarding the safety and efficacy of abortion. Following Dobbs, for example, anti-abortion groups targeted Latina immigrants with Spanish-language disinformation online. According to Northwestern Medicine OB/GYN Melissa Simon, confusion dissuades women from seeking care, which is especially concerning considering Latina maternal mortality rates is at an all-time high.
During the COVID-19 pandemic, specific steps taken to combat the spread of misinformation and disinformation included working with trusted community members, targeting specific sources, identifying and "debunking" falsehoods, and increased government efforts to disseminate clear public health information. But, additional research is required to better understand misinformation impacts, including variations across subpopulations based on race, ethnicity, socioeconomic status, sexual orientation, and other factors.
This information was developed by Erica N. White, JD, Senior Attorney, Network for Public Health Law, Western Region Office and Research Scholar, Center for Public Health Law and Policy and at the Sandra Day O'Connor College of Law; and Clifford M. Rees, JD, former Practice Director for the Western Region of the Network for Public Health Law at the Arizona State University Sandra Day O'Connor College of Law (2010-2017). The views shared in this post are those of the authors and do not necessarily reflect those of the Robert Wood Johnson Foundation, or the Arizona State University Sandra Day O'Connor College of Law.
The Network for Public Health Law provides information and technical assistance on issues related to public health. The legal information provided in this post does not constitute legal advice or legal representation. For legal advice, readers should consult a lawyer licensed to practice law in their state.