Public Health Law News Roundup – January 2022
January 12, 2022
Overview
Some of the public health law and policy issues in the headlines in recent weeks include California's new law requiring mental health courses be taught in schools, the challenges schools face in remaining open during the omicron surge, the addition of a common chemical to the FDAs list of hazardous chemicals, Medicaid expansion on the ballot in South Dakota, and libraries' efforts to meet the growing social service needs of their patrons.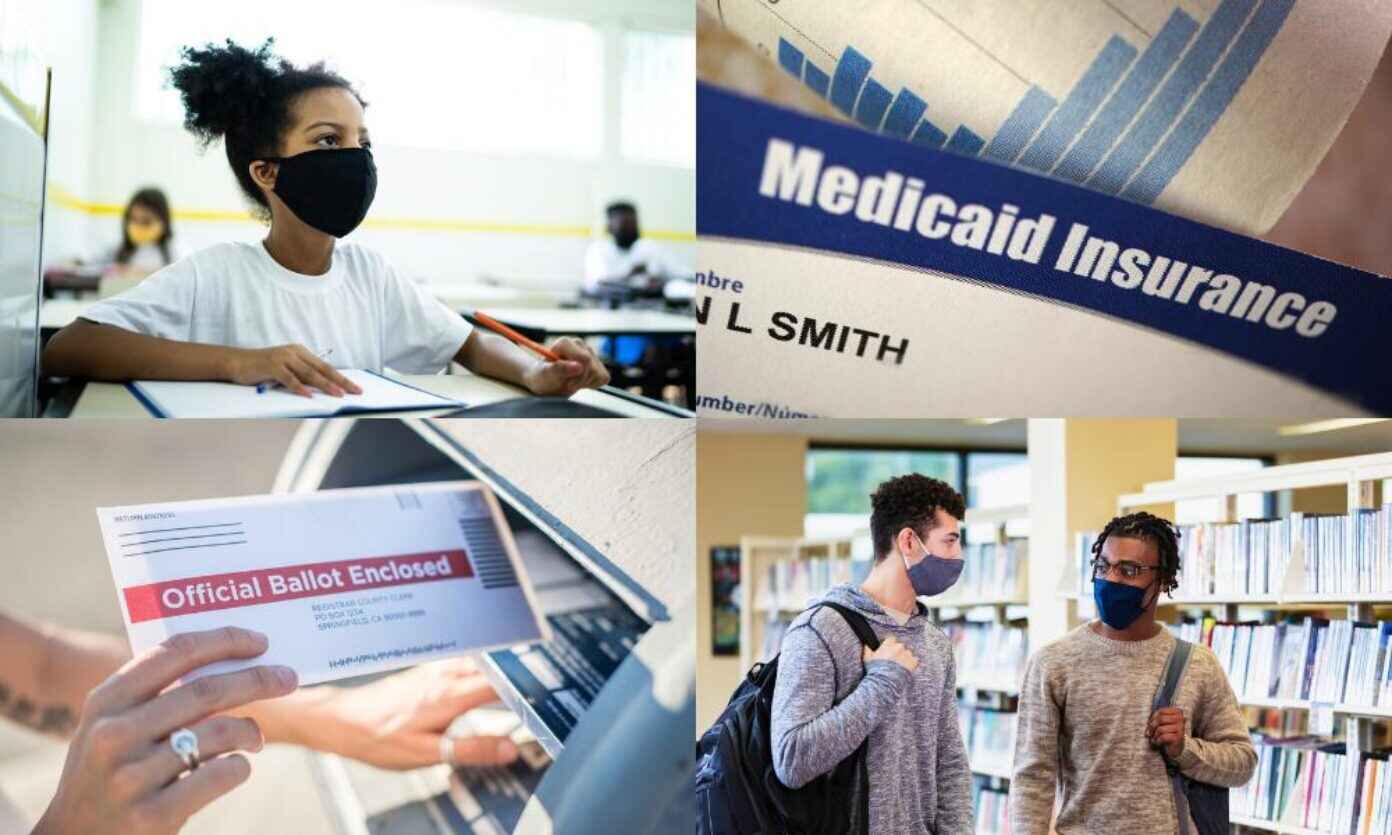 New Law on Mental Health Curriculum Goes into Effect with Start of The New Year – NPR, Jan. 10
A new law in California requires all school districts that offer health classes to include mental health as part of the curriculum. The bill's sponsor said he hopes it "will empower young people to talk about mental illness, recognize the signs and provide help for those who need it."
What It Really Takes to Keep Schools Open During the Omicron Surge – NPR, Jan. 7
Many political leaders across the country have pledged to keep schools open during the omicron surge, and the CDC has updated its school guidance to help schools mitigate spread. But teachers and administrators are struggling to follow guidelines due to staffing shortages and lack of proper safety equipment.
Most States Are Wary of Mandating COVID Shots for Kids – PEW Jan. 7
Every state has requirements for children to receive certain vaccines before they are permitted to attend school. But despite claiming about 830,000 lives in the U.S., only two states have added COVID-19 vaccines to the list of immunizations required to enroll in school. Public health experts believe the politics of the pandemic have made states hesitant to require COVID vaccines.
Supreme Court Seems Skeptical of Biden's Vaccine Rules for Businesses, More Receptive to Policy for Health-Care Workers – Washington Post, Jan. 7
The Supreme Court hears challenges to the Biden administration's federal vaccination requirements for workers.
EPA Adds New Air Pollutant to Hazardous List for First Time in 30 Years – The Hill, Jan. 6
For the first time in thirty years, the EPA has added a chemical normally used in dry cleaning, stain removers, adhesives and cleaners, to its list of chemicals that are unsafe to breathe, which will likely require rule changes to help regulate emissions.
South Dakota Voters to Decide Medicaid Expansion – KHN, Jan. 6
Medicaid expansion has been placed on the 2022 ballots in South Dakota, giving voters in the state the opportunity to join 38 states that have expanded Medicaid to all residents whose income is under a certain percentage of the federal poverty level.
CDC Recommends Pfizer COVID Booster for Kids as Young as 12 – NPR, Jan. 3
Following FDA authorization, the CDC has recommended that children between the ages of 12 – 17 should receive a Pfizer booster shot five months after their last COVID-19 vaccination dose.
D.C. Students Will Get Free Pads and Tampons in School Bathrooms – Washington Post, Jan. 4
Students residing in D.C. will now have comprehensive access to period products at their schools, and schools that do not have non-gender specific bathrooms must also make such products available in boys' rooms for transgender students.
More Americans Can Use Food Stamps for Restaurants, Prepared Meals – Stateline, Jan. 4
Responding to growing calls from advocates to increase accessibility and types of assistance for those who receive SNAP benefits, six states have moved to allow older adults to use food benefits for select low-cost restaurant meals.
Why Your Local Library Might Be Hiring a Social Worker – NPR, Jan. 3
Libraries have a history of providing public health services, including stocking the overdose antidote Narcan and training staff on how to administer it, hosting vaccination clinics, and assisting in health insurance enrollment. Now, in response to what they see as increased needs among their patrons, some libraries are hiring social workers to fill gaps in access to social services.
The Network for Public Health Law provides information and technical assistance on issues related to public health. The legal information and assistance provided in this document do not constitute legal advice or legal representation. For legal advice, readers should consult a lawyer in their state.
Support for the Network is provided by the Robert Wood Johnson Foundation (RWJF). The views expressed in this post do not represent the views of (and should not be attributed to) RWJF.