COVID-19
Economic Stability
Workplace Disparities: Gaps in COVID-19 Protections for Grocery Workers
June 4, 2020
Overview
Across the United States, business closures and shelter-in-place orders imposed to mitigate the effects of COVID-19 vary by jurisdiction, but all exempt essential services and employees necessary to meet the basic needs of individuals and communities. Outside of health care providers on the frontlines of the pandemic, grocery store workers are among the most visible—and consequently the most at-risk—essential employees. As states begin to reopen, protecting these retail workers from infection is critical for their health and safety as well as pandemic control nationwide.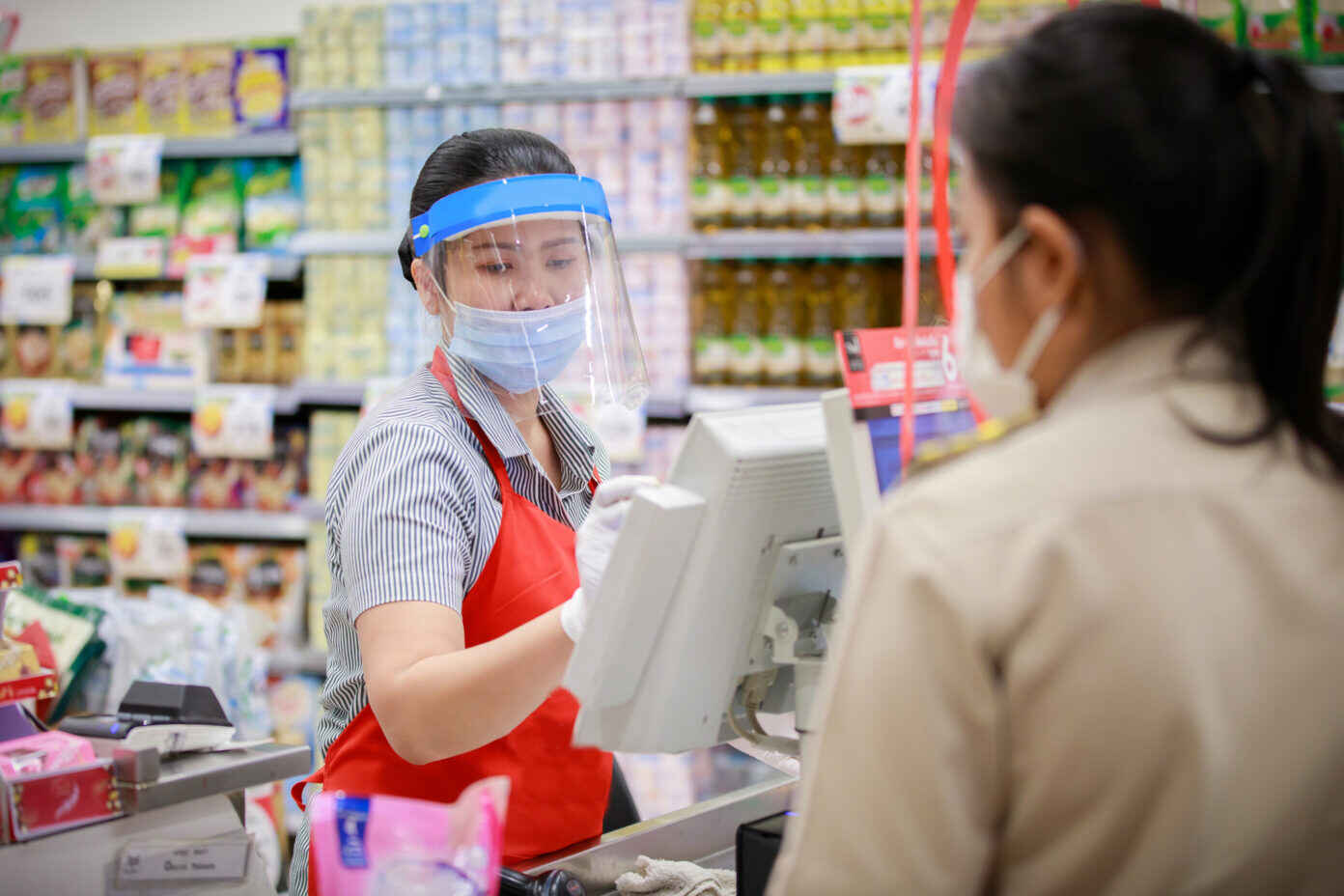 Under the Occupational Safety and Health (OSH) Act of 1970, enforced primarily by the Occupational Safety and Health Administration (OSHA), most employers have legal obligations to protect employees in the workplace. Twenty-two states have OSHA-approved State Plans that cover private sector employers, so state-specific requirements on grocery store safety may vary. Section 5(a)(1) of the OSH Act, considered the general duty clause, requires employers to provide employees "a place of employment . . . free from recognized hazards that are causing or are likely to cause death or serious physical harm." Employers may violate this clause by failing to implement protective measures against COVID-19 in the workplace.
Other relevant provisions of the Act include requirements to provide appropriate personal protective equipment, maintain a clean place of employment, and retain records of work-related illnesses. Although these are not COVID-specific regulations, federal agencies have issued nonbinding guidance to aid employers in keeping workers safe. In addition to OSHA's guidance for retail workers, the Centers for Disease Control and Prevention (CDC) has put into effect guidance specifically for grocery workers and employers to reduce transmission of COVID-19. The guidance includes recommendations to regularly disinfect frequently touched surfaces, rearrange physical spaces to allow for increased distance between individuals, encourage sick employees to stay home, and provide remote shopping alternatives to customers.
Protections for grocery workers are particularly important due to the characteristics of the workforce. Nearly six percent of grocery employees are older than 65 while almost 15 percent are between the ages of 55 and 64. Older adults are among the populations at higher risk of complications and death from COVID-19. Workers with disabilities, which can include chronic health conditions that place individuals at higher risk for severe illness from COVID-19, are more likely to work in retail trade than those without disabilities. Twenty-four percent of black and Latinx workers are employed in the service industry, placing them at increased risk and contributing to racial disparities in COVID-19 infections. In addition, 71 percent of retail cashiers in the United States are women, putting them at a disproportionate risk of exposure.
In 2019, annual mean earnings for grocery store cashiers were $24,990 and only 51 percent of retail workers were eligible for employer-sponsored health insurance. As a result, unless they have other forms of private or public health insurance coverage, many workers may be unable or unwilling to seek health care if they experience symptoms of COVID-19. Further, only 64 percent of retail workers had paid sick leave and a meager 15 percent had access to paid family leave last year.
As COVID-19 reveals and exacerbates longstanding socioeconomic health disparities in the United States, infecting low-income Americans at higher rates than their affluent counterparts, protecting essential workers is paramount. The Families First Coronavirus Response Act expanded paid sick leave and family and medical leave, but the law only applies to private employers with fewer than 500 employees, so not all workers benefit. Workers without paid leave or health insurance are incentivized to continue working despite known exposure or the presence of symptoms, which may harm their own health and place colleagues and the public at greater risk.
Grocery workers rightfully fear for their safety and the health of their families; at least 100 grocery workers have died from COVID-19. Selected grocery chains have expanded access to sick leave, hazard pay, and personal protective equipment in stores across the country, but voluntary protections are of course subject to change. Accordingly, the United Food and Commercial Workers International Union (UFCW) has called on employers to maintain hazard pay and strengthen safety standards, while the AFL-CIO is taking legal action to compel OSHA to issue a legally-binding emergency rule to protect a large number of workers.
Some states require employers to limit store occupancy, offer supplemental paid sick leave, or provide personal protective equipment to employees, and others have classified grocery workers as emergency personnel to facilitate access to priority testing and, in some states, child care services. Recommendations from the CDC suggest daily employee health checks, and employers should follow Equal Employment Opportunity Commission (EEOC) guidance on complying with the Americans with Disabilities Act (ADA) related to workplace medical screenings during a pandemic. The ADA generally prohibits employers from conducting disability-related inquiries or medical examinations, but because COVID-19 poses a direct threat to the health of employees that cannot be addressed through reasonable accommodation, employers can ask employees about COVID-related symptoms and send symptomatic staff home while adhering to confidentiality requirements.
Despite these protective measures, grocery workers remain at risk. Shoppers may refuse to wear face coverings or follow social distancing guidelines. Retail workers are often enforcing public health recommendations and mandates without proper training or protective equipment. While OSHA provided general guidance, the agency has not established legal obligations for employers specific to COVID-19. Further, although employees have filed thousands of complaints, federal OSHA enforcement is lacking. As described above, most grocery workers are low-income adults—many of whom are minorities, older, or disabled. With fewer than five percent of retail workers represented by unions, the social and economic power dynamics often leave employees with little bargaining power. The public can support essential employees by adhering to public health guidelines and advocating for workers' safety priorities to employers and policymakers. Access to groceries should not come at the expense of the health and safety of workers.
No worker should have to choose between protecting their health and the health of their families or receiving a paycheck and maintaining health insurance. As grocers hire additional employees to meet increased demand, they must protect both new staff and current workers from public health threats in the workplace. Robust health and safety measures in grocery stores are necessary to control the spread of the virus and protect the health of essential employees and the public. Indeed, many protective measures, such as shortening store hours, implementing dedicated shopping hours for high-risk shoppers, installing sneeze guards, and establishing social distancing practices including one-way aisles, benefit employees and customers alike. The federal government, states, and employers should prioritize policies and practices that protect grocery workers, and particularly those who are most vulnerable, from exposure to COVID-19.
This post was developed by Susan Fleurant, Senior Legal Researcher, Network for Public Health Law – Mid-States Region Office and J.D./M.P.H Candidate, University of Michigan (2022), and reviewed by Colleen Healy Boufides, J.D., Deputy Director, Network for Public Health Law – Mid-States Region Office.
The Network for Public Health Law provides information and technical assistance on issues related to public health. The legal information and assistance provided in this document do not constitute legal advice or legal representation. For legal advice, readers should consult a lawyer in their state.
Support for the Network is provided by the Robert Wood Johnson Foundation (RWJF). The views expressed in this post do not represent the views of (and should not be attributed to) RWJF.