Health Reform
Reproductive Health and Equity 
Maternal and Child Health
Mechanisms for Advancing Health Equity
The Role of Law and Advocacy in Advancing Equity and the Public's Health – Insights from the Network's Executive Director, Dr. Vineeta Gupta
May 17, 2023
Overview
Before becoming a human rights activist, physician and lawyer, and a career that included leadership of projects and programs in over 30 countries, Dr. Gupta had her first advocacy win at age seven. In the article below, Dr. Gupta shares insights from her remarkable journey in social justice, and how she gained a multifaceted perspective on the interplay between health, equity, social justice, and law and policy.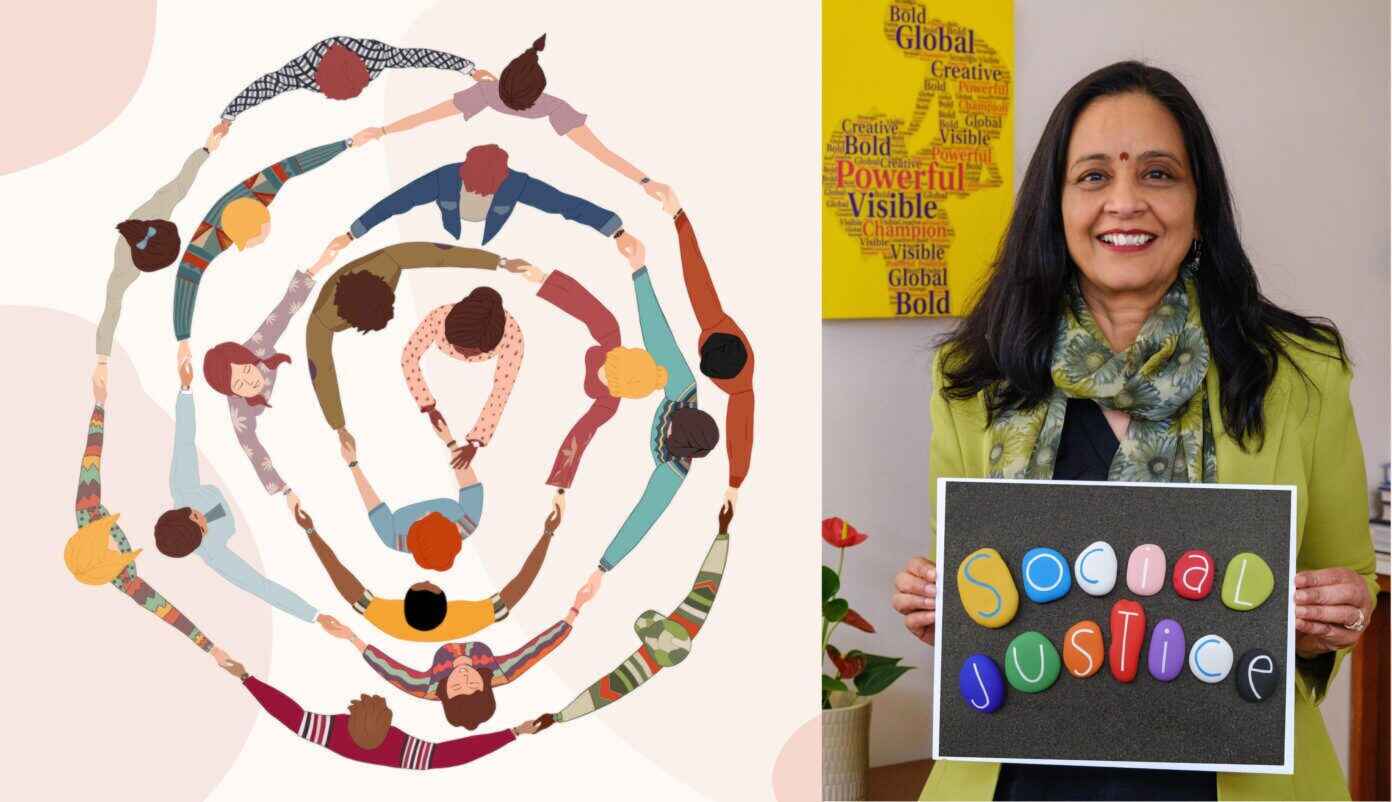 My first advocacy win was at age seven, in India. At the time, my mother, a professor, was a political detainee. My brother and I were still in school, and visiting times were during the school day, making it difficult for us to see her. My brother, who was two years older, and I were able to successfully advocate to allow us to visit her after school. Between the two of us, I was more of a rabble-rouser! Direct conversations with the police chief and media advocacy were some of the winning strategies we used.
Social justice is a multi-generational passion in my family, and a way of life. Advocating for equity is in my DNA. Today, health equity, reproductive rights, maternal health, and women's empowerment are priorities for me.
I grew up in India, where I was active in human rights and faced persecution and threats to my life throughout my younger years into adulthood when I became a physician and human rights activist. I investigated and reported on several human rights violations, including torture in the State of Punjab. There was a pattern in the methods and instruments of torture used in police posts and centers. Police carried similar instruments, such as ropes, electric regulators, and wooden rollers. I collected data, photos, and testimonials. I believed that if the instruments of torture were found in any police post it was proof of intention, and that removing those instruments would prevent and limit the incidences of torture.
I contacted friends who were leading human rights lawyers, and they told me that seeking preventive relief in a criminal writ petition from the state high court would not make a winning case. However, I found a friend willing to take it to court if I was willing to argue alongside him. We won the case, Vineeta Gupta v State of Punjab, in the state's High Court. Although we had sought relief in one state, the Court found the issue so compelling that the order was extended to the whole jurisdiction of the Court – two states and one union territory – think Maryland, Virginia, and DC. In India, High Court is the highest court in a state. In addition, the judgment was required to be available in all police posts and centers and became part of police training.
I led many public interest litigations in India, including on issues of crime against women and corruption and accountability in governmental institutions. This experience made me interested in learning more about legal concepts and methods, which led me to pursuing and obtaining a law degree and an LL.M. in international human rights law from the University of Notre Dame Law School.
My education and career have been diverse and are the ribs to the backbone of equity and social justice. My journey, spanning various disciplines and cultural landscapes, has undeniably shaped my approach to life and work. Having worked on projects and programs in over 30 countries, I have gained a multifaceted perspective on the interplay between health, equity, social justice, and law and policy. This global exposure has sharpened my ability to recognize the unique needs of different communities and devise appropriate strategies. In the context of the United States, it's crucial to acknowledge the pressing issues at hand. For instance, the persistent disparities in healthcare access, the ongoing struggle for reproductive rights, and the urgent need for improved maternal health outcomes are some of the challenges that require a holistic approach, combining health and legal expertise, grassroots mobilization, and strategic collaboration to effect meaningful change.
What I have learned is that when we have a cause that we truly believe in, and we have the evidence, logic, and passion to support it, we are in a strong place. Whether we win or lose, we will learn and grow from the experience. Just look at the history of successful litigation in gender equality, abortion rights, and education in the U.S. They all started with a few brave people who refused to take no for an answer. And personally, I can say that my most impactful work has come from pushing through obstacles and fighting for what I feel is right. Currently, with reproductive health and rights on the line, we need all hands on deck.
As the executive director of the Network for Public Health Law, I'm humbled by the opportunity to work with an amazing team of public health attorneys and experts who are leaders in the field. We focus on laws that impact health and health equity in communities. We interpret laws, provide analysis of their implications on aspects such as implementation and enforcement, and think strategically about how to help stakeholders – including health agencies and their community partners – navigate or amend bad laws. For example, the overturning of Roe v. Wade had serious implications for racial disparities in reproductive health. Network attorneys are currently working with health agencies to help them understand the legal parameters for providing reproductive and abortion care and services, and to develop strategies to mitigate the negative impact of restrictive laws on marginalized communities. Our goal is to ensure that everyone, regardless of their socioeconomic status or background, has access to the full spectrum of reproductive health services and can exercise their reproductive rights without facing unnecessary barriers.
Also core to our work is analysis of public health law and policy to identify areas where improvements can be made. We highlight the laws that can be used as "model laws," or what we call "bright spots" in our Act for Public Health initiative. We produce fact sheets, briefs, and other resources to disseminate the information to help policymakers and lawmakers develop and implement new policies and laws that promote public health, and other stakeholders to use in developing strategies and messaging.
In addition to our legal expertise, the Network emphasizes the importance of collaboration and partnerships. We actively engage with public health professionals, community members, advocates, researchers, and health care providers to amplify our impact: Our National Public Health Law Conference, taking place October 24 – 26 in Minneapolis, is one of the ways in which we foster collective action. By working together, we can combine legal expertise, scientific evidence, community insights, and grassroots mobilization to advance health equity and social justice – indeed, the theme of our conference this year is "People. Policy. Progress."
Ultimately, our work at the Network is driven by the belief that law and policy can be powerful tools for improving health outcomes and advancing health equity. We remain committed to advocating for just and equitable laws, supporting evidence-based interventions, and building the capacity of communities to actively participate in shaping policies that promote the well-being of all individuals. Together, we can create a healthier and more equitable future for everyone.
The quest for social justice and health equity can take various forms, including grassroots organizing, policy advocacy, public awareness campaigns, litigation, and community mobilization. It involves raising public awareness about systemic inequities and injustices, engaging in dialogue with decision-makers, and pushing for policy changes that address health disparities and promote equitable access to resources and services. Advocacy can also involve supporting and amplifying the voices of marginalized communities, promoting inclusive policies and practices, and working collaboratively with diverse stakeholders to create lasting social change.
I had a role in advocacy as a child, young adult, human rights activist, community organizer, public health physician, and lawyer. Being a brown woman immigrant in the U.S. with the lived experience of going from privileged to the other side of the equation with very limited access to healthcare changed my understanding of and role in advocacy. There is no one place that we are needed; the work needs to be happening everywhere and in various settings to advance health equity and social justice, including in government agencies, non-profit organizations, communities, and for-profit entities.
Together, we can break the boundaries, challenge the status quo, and forge a path to a future of thriving health equity and social justice. Our backgrounds and professions may differ, but through individual and collective action, we can harness the transformative power of law and policy advocacy.
This post was written by Vineeta Gupta, M.D., J.D., LL.M, Executive Director –Network for Public Health Law.
The Network for Public Health Law provides information and technical assistance on issues related to public health. The legal information and assistance provided in this document do not constitute legal advice or legal representation. For legal advice, readers should consult a lawyer in their state.
Support for the Network is provided by the Robert Wood Johnson Foundation (RWJF). The views expressed in this post do not represent the views of (and should not be attributed to) RWJF.