Environment, Climate and Health
Climate and Health
The Public Health Costs of Chlorpyrifos to Ensure Insect-Free Crops
August 2, 2017
Overview
Since 1965, chlorpyrifos has been a commonly used pesticide, and nearly six million pounds of it are used domestically each year on more than fifty different types of crops. Scientists have linked the pesticide to harmful effects in children and adults. A proposed a ban by the Environmental Protection Agency on the use of chlorpyrifos slated to go into effect in March, 2017 has been denied, leaving states to decide whether to take action to subject the pesticide to more stringent rules.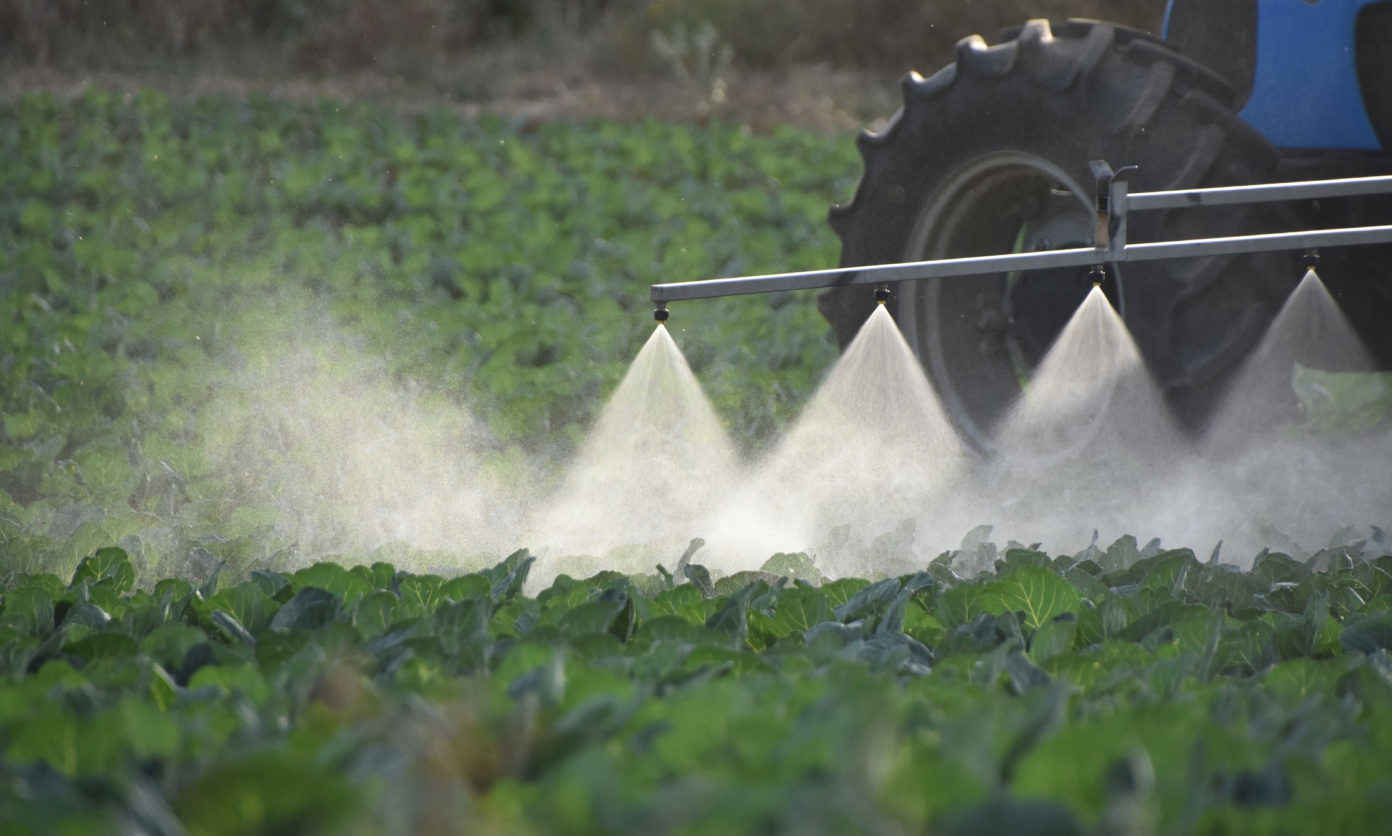 Since 1965, chlorpyrifos has been a commonly used pesticide. Nearly six million pounds of it are used domestically each year to kill pests on more than 50 different types of crops (especially alfalfa, almonds, citrus and cotton). Farmers heavily rely on chlorpyrifos because there are no viable alternatives. However, scientists have linked the pesticide to harmful effects in children and adults, including developmental damage to children's brains, reduced intelligence levels, loss of working memory and attention deficit disorders.
Chlorpyrifos was banned for household use in 2001 due to its identified neurotoxic threat to humans. Scotland and other European countries have completely banned the pesticide for all purposes, though not without controversy. Use of chlorpyrifos on crops in the U.S. continues unabated along with negative health impacts.
On May 5, 2017, nearly 50 farmhands in Bakersfield, California were poisoned by exposure to chlorpyrifos. Although the farm they work on does not use the pesticide, it drifted from use on a neighboring orchard. The affected workers experienced vomiting and nausea; one worker fainted. While these short-term effects may seem negligible, chronic health risks (in addition to those noted above) include increased risk of lung cancer as well as reproductive and developmental complications.
The Pesticide Action Network North America (PANNA) and the Natural Resources Defense Council (NRDC) in September 2007 filed a petition with the Environmental Protection Agency (EPA) to ban chlorpyrifos. While EPA expedited its research process, environmental groups were not satisfied with its progress. In August 2015, the Ninth Circuit Court of Appeals ruled in favor of PANNA and NRDC. EPA was given until October 31, 2015 to deny the petition, issue a proposed revocation, or set forth a final revocation rule.
In response, EPA proposed a new rule under the Obama administration's zero tolerance policy of chemical residues on food, which would effectively ban the pesticide for all uses. In November 2016, however, EPA revised its human health risk assessment (HRA) on chlorpyrifos, finding that residues on crops and drinking water are harmful when ingested.
Researchers evaluating residential proximity of low to moderate exposure levels of chlorpyrifos among pregnant women found exposures led to children with decreased IQ's and working memory and increased risks of children with developmental delay and autism. Another study examining families living in agricultural communities found nearly 88 percent of umbilical-cord blood samples tested had detectable levels of chlorpyrifos. Other studies found decreased lung functioning in exposed children and reduced fertility in men.
EPA published its proposed rule in the Federal Register on November 17, 2016. The comment period closed on January 17, 2017. The Court of Appeals directed EPA to finalize its rule by March 31, 2017. Many expected the proposed ban to proceed as scheduled. However, incoming EPA Administrator Scott Pruitt denied the petition. "By reversing the previous Administration's steps to ban one of the most widely used pesticides in the world," Pruitt stated, "we are returning to using sound science in decision-making – rather than predetermined results." While EPA plans to continue to review the pesticide, it tabled the issuance of its next assessment until 2022.
Pruitt's decision has support among a number of public and private entities. The U.S. Department of Agriculture (USDA) was strongly against the ban, calling EPA's science questionable, unsupported and incorrect. Dow AgroSciences, a subsidiary of Dow Chemical Corp., which manufactures the pesticide, expressed concerns that banning chlorpyrifos would give farmers no alternatives, especially against new pests.
Conversely, health and farmworker associations have filed a new complaint, asking a panel of federal appeals court judges to order EPA to completely ban the pesticide. Attorneys General from New York, California, Maine, Maryland, Massachusetts, Washington and Vermont also challenged Pruitt's decision, questioning the legality of the ban's sudden reversal. California labeled chlorpyrifos a restricted use pesticide to address, in part, its drifting effect on schoolchildren near farms.
Other use restriction regulations could include requiring buffer zones, notifying parents and schools of chlorpyrifos usage, limiting application methods and limits, and stricter permitting requirements. Under EPA's Worker Protection Standard (WPS) employers are bound to follow several federal provisions including: providing employees with protective equipment, establishing restricted entry-times after pesticide use, and having mandatory pesticide trainings to prevent poisonings. EPA provides some additional guidance for state regulatory agencies to help enforce EPA's laws, including the Federal Insecticide, Fungicide, and Rodenticide Act (FIFRA). States work alongside EPA to regulate the sale, use, and distribution of pesticides, including reporting worker incidents and complaints. As EPA has refused to take immediate action on chlorpyrifos specifically, states may continue to craft regulations, such as California's restricted use designation, that subject the pesticide to more stringent rules to ensure public health and safety.
This post was prepared by Sarah Lemelman, Legal Researcher and J.D. Candidate (2019), Center for Public Health Law and Policy, Sandra Day O'Connor College of Law, and reviewed by Kim Weidenaar, J.D., Deputy Director, Network for Public Health Law – Western Region, Center for Public Health Law and Policy, Arizona State University and Brian Fillmore, Legal Researcher and J.D. Candidate (2019), Center for Public Health Law and Policy, Sandra Day O'Connor College of Law.
The Network for Public Health Law provides information and technical assistance on issues related to public health. The legal information and assistance provided in this document do not constitute legal advice or legal representation. For legal advice, readers should consult a lawyer in their state.
Support for the Network is provided by the Robert Wood Johnson Foundation (RWJF). The views expressed in this post do not necessarily represent the views of, and should not be attributed to, RWJF.