COVID-19
Public Health Law News Roundup – November/December 2020
December 16, 2020
Overview
Some of the public health law and policy issues in the headlines in recent weeks include challenges to public health powers; vaccine data and privacy concerns; California's proposed legislation extending the state's eviction moratorium; pandemic-induced food insecurity; the Biden administration's plans for addressing the ongoing drug epidemic; vaccine distribution challenges faced by states; and the Supreme Court ruling on religious freedoms and COVID restrictions.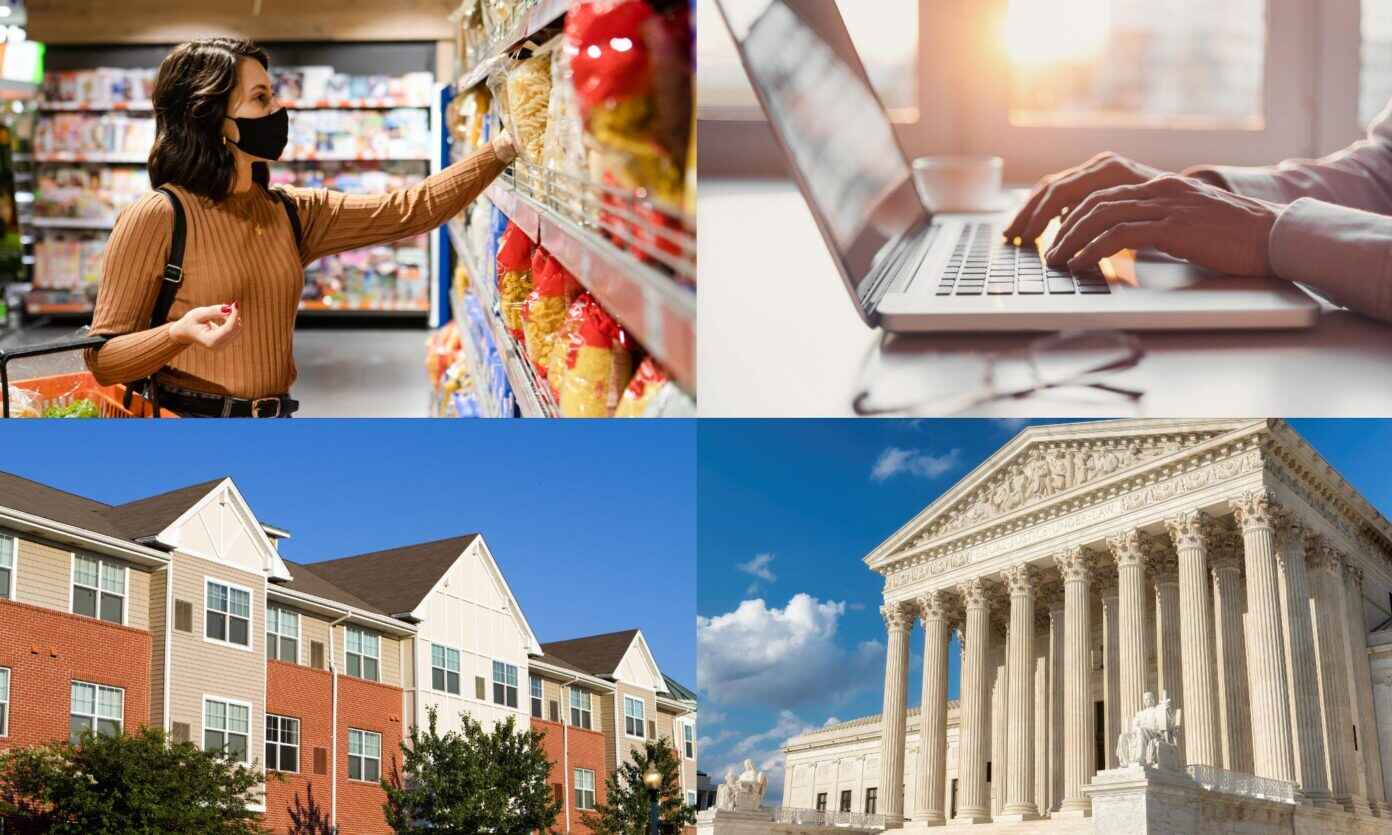 Pandemic backlash jeopardizes public health powers, leaders – The Charlotte Observer, Dec. 14
Across the U.S, state and local public health officials are in the middle of a political storm as they work to combat the pandemic. Because of death threats and protests at their private residences, many have left the public health field altogether. A weakened workforce combined with efforts to limit public health's powers (lawmakers in at least 24 states have crafted such legislation), are leading experts to warn that it will be even more difficult for communities to respond to other health emergencies in the future.
Federal database for Covid-19 vaccination info raises concerns about privacy and vaccine uptake – CNN, Dec. 13
Collecting data on the number of people vaccinated is a key component of the federal government's efforts to measure the effectiveness of vaccination in eradicating the virus. Tracking a patient's vaccination history is also important to healthcare providers in order to ensure people receive the correct dosing at the correct intervals to complete the two-dose vaccine series. However, data sharing on a national scale has raised data privacy concerns that the CDC and states are working to address.
'Kind Of A Chess Game': For States, Distributing COVID-19 Vaccine Poses Myriad Hurdles – NPR, Dec. 9
As the first COVID-19 vaccine rolls out, states are struggling with how to plan and execute its distribution. Questions about the amount of vaccine they will be receiving along with concerns on how to fund vaccine distribution are among the challenges facing states.
California's ban on evictions would last through 2021 under new extension proposal – The Sacramento Bee, Dec. 7
With COVID-19 cases surging in California, prompting new stay-at-home orders, California Assemblyman David Chiu, D-San Francisco has introduced a law that would extend the state's moratorium on evictions through Dec. 31 of next year. The legislation would also impose additional regulations on landlords, including increased penalties for illegal lockouts or for imposing late fees and interest on struggling tenants. Landlords would also be prohibited from retaliating against or harassing renters to force payments.
Millions of hungry Americans turn to food banks for 1st time – AP News, Dec. 7
Data from Feeding America, the nation's largest anti-hunger organization, shows a 60 percent average increase in food bank users since the COVID-19 pandemic started. Advocates have pushed for increased funding of the Supplemental Nutrition Assistance Program, which provides nine times as many meals to hungry Americans compared to food banks. Many going to food pantries also are receiving food stamps, though eligibility varies among states.
Biden's other health crisis: A resurgent drug epidemic – Politico, Nov. 28
As a senator, President-Elect Joe Biden supported legislation requiring mandatory minimum prison sentences for drug offenders. Observers say he is signaling a very different approach as he gets ready to take office— one that will emphasize new funding for substance abuse treatment and prevention, while calling to eliminate jail time for drug use.
Major shift at Supreme Court on Covid-19 orders – Politico, Nov. 26
The Supreme Court voted to bar New York from reimposing COVID-19 restrictions on religious gatherings, signaling a "major shift in its approach" towards coronavirus-related restrictions.
Glaring omission from Biden's Covid-19 task force: mental health expertise – Stat News, Nov. 23
"There is a pressing need for the federal government and individual institutions like universities and community colleges to address the challenges young adults face during — and after — Covid-19. The place to start is by including mental health expertise on the coronavirus advisory panel and ensuring investment in mental health access."
The Network for Public Health Law provides information and technical assistance on issues related to public health. The legal information and assistance provided in this document do not constitute legal advice or legal representation. For legal advice, readers should consult a lawyer in their state.
Support for the Network is provided by the Robert Wood Johnson Foundation (RWJF). The views expressed in this post do not represent the views of (and should not be attributed to) RWJF.