Public Health Law News Roundup – March 2021
March 10, 2021
Overview
Some of the public health law and policy issues in the headlines in recent weeks include the Biden administration's efforts to implement a national COVID-19 testing strategy; the city of Sante Fe's innovative approach to addressing homelessness; a House bill that would significantly expand voting rights; a Colorado bill providing added protections for public health workers; vaccine mandates for health care workers; a new law in California that expands access to mental health and addiction treatments; and COVID-19 vaccination registration and information websites that violate disability laws.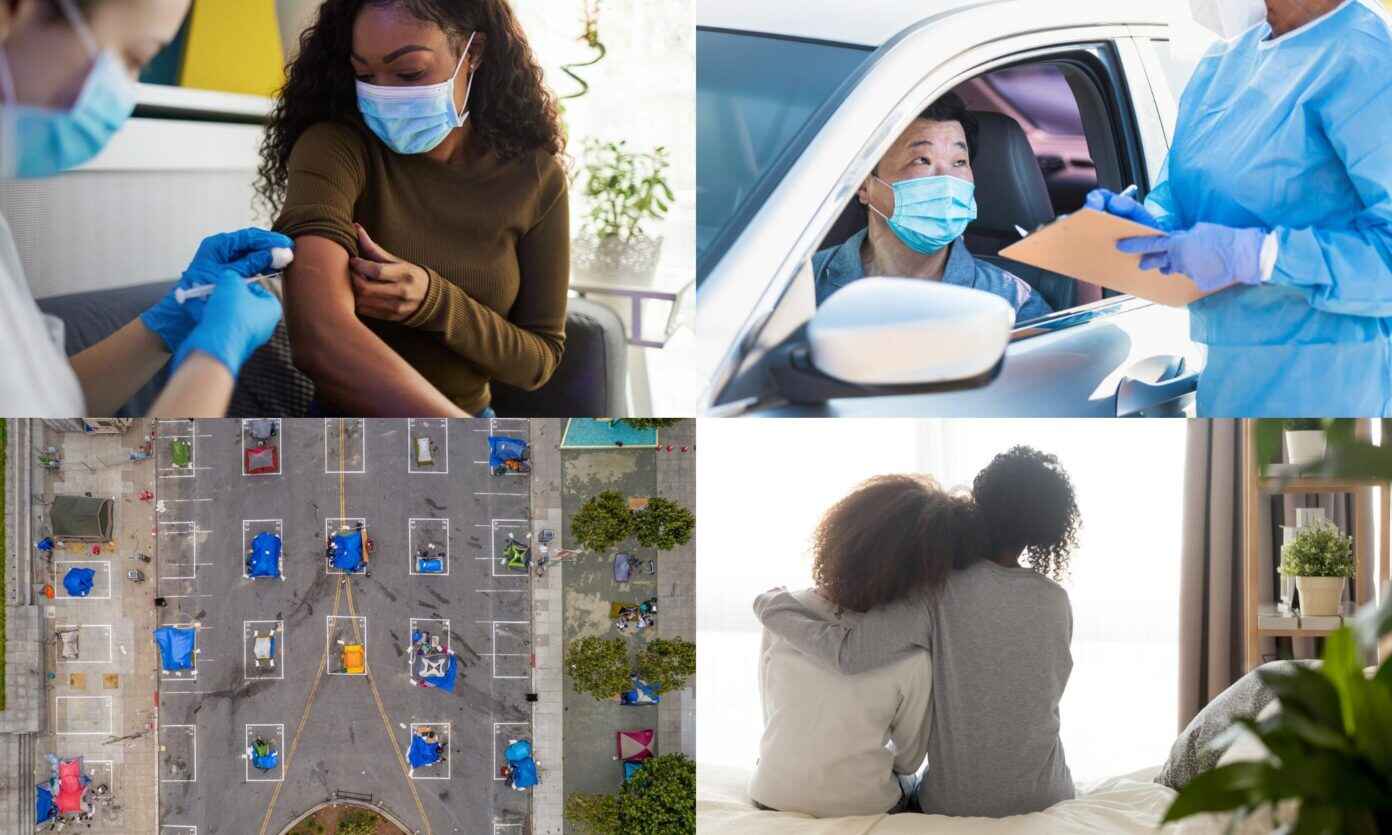 Biden Team Plots the Country's First National Covid Testing Strategy – Politico, Mar. 7
The Biden administration is preparing to launch the first of many coronavirus testing hubs next month. The effort is the first attempt at formalizing a national testing strategy, which could add up to 25 million tests per month to the nation's testing totals by expanding testing in K-8 schools and in congregate settings like homeless shelters.
To Tackle Homelessness, Santa Fe Found a Better Plan – Bloomberg CityLab, Mar. 4
Sante Fe is one of more than 80 communities that have utilized the "Built for Zero" strategy, using data-driven methods to tackle homelessness. The city used funds from the CARES Act to buy a defunct hotel to create affordable apartments for people without housing or struggling to keep their homes through the economic crisis, which they say helped reduce COVID-19's impact on unhoused people.
House Passes Landmark Voting Rights Bill – NYTimes, Mar. 4
House Democrats have pushed through a bill that would significantly expand voting rights by weakening restrictive voter ID laws, expanding early and mail-in voting, restore voting rights to former felons and more. Studies suggest that these measures would increase voter participation, especially among people of color.
Colorado Lawmakers Advance Bill Broadening Doxing Protections for Public Health Workers – The Colorado Sun, Mar. 2
Colorado public health officials are pushing for a bill that would broaden doxing protections to employees and contractors of public health agencies in the state, making it a misdemeanor to dox, or reveal personal information, that would pose a threat to these workers or their families.
Texas Lifts Mask Mandate Despite Dire Warnings About Fourth Wave – Bloomberg, Mar. 2
Despite warnings from health officials of a potential fourth surge of COVID, Texas Governor Greg Abbott lifted the state's mask mandate and other anti-pandemic restrictions, allowing businesses to open at full capacity starting March 10.
Not All Health Care Workers in Arizona are Opting to Get a COVID-19 Vaccine – USA Today, Feb. 26
With vaccination efforts underway, some employers, including health care systems, are considering mandating vaccination for their employees. In this article, Network Senior Attorney Jen Piatt discusses how mandates for health care workers are often justified legally by balancing competing interests between assuring public and workplace safety versus respecting health care workers' vaccine concerns.
New California Law Makes It Easier to Get Care for Mental Health and Substance Abuse – KHN, Feb. 26
A new law in California dramatically expands the number of mental health and addiction treatments that insurers must cover by requiring insurers to use clinical standards when determining which treatments to cover for beneficiaries and for how long.
Covid Vaccine Websites Violate Disability Laws, Create Inequity for the Blind – KHN, Feb. 25
According to an investigation by KHN, most COVID-19 vaccination registration and information websites lack required accessibility features, violating disability rights laws and preventing many blind people from signing up for a potentially lifesaving vaccine.
The Network for Public Health Law provides information and technical assistance on issues related to public health. The legal information and assistance provided in this document do not constitute legal advice or legal representation. For legal advice, readers should consult a lawyer in their state.
Support for the Network is provided by the Robert Wood Johnson Foundation (RWJF). The views expressed in this post do not represent the views of (and should not be attributed to) RWJF.