Public Health Law News Roundup – January 2021
January 14, 2021
Overview
Some of the public health law and policy issues in the headlines in recent weeks include planned charges in the Flint water probe; Supreme Court ruling on abortion issue; obstacles in the COVID-19 vaccine rollout; calls for better public health data to combat the pandemic; public health issues facing the Biden administration; the impact of the EPA's 'secret science' rule; and controversy over proposed vaccination distribution strategies.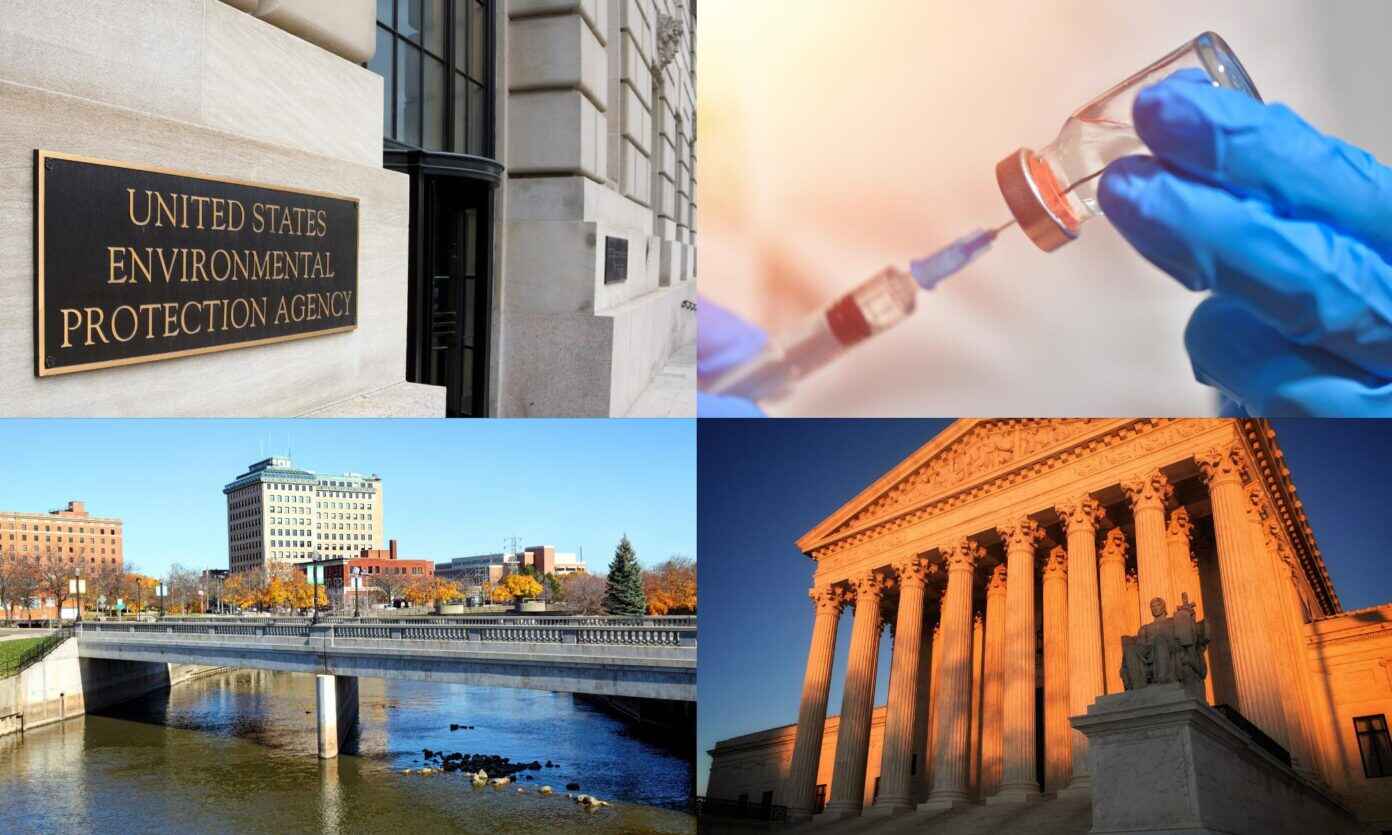 Michigan Plans to Charge Ex-Gov. Snyder in Flint Water Probe – AP News, Jan. 13
The state of Michigan plans to charge former state governor Rick Snyder, along with his health director and other ex-officials, for their role in the Flint water crisis. The water crisis devastated the 100,000 residents of Flint – most of whom are Black – and was blamed for a deadly outbreak of Legionnaires' disease that killed 12 people in 2015-16.

Supreme Court Revives Abortion-Pill Restriction — New York Times, Jan. 12
In their first abortion case since Justice Amy Coney Barrett joined the court, the Supreme Court reinstated a federal requirement that women seeking medication abortions pick up a pill in person from a hospital or medical office. The American College of Obstetricians and Gynecologists and other groups had sued to suspend the requirement in light of the pandemic, arguing that there was no good reason to require a visit when the drug could be delivered or mailed.

Vaccine Rollout Confirms Public Health Officials' Warnings – AP News, Jan. 10
State and local public health departments across the U.S. face numerous obstacles in rolling out COVID-19 vaccinations. The slower-than-expected start to the national vaccination effort has officials worried that they are losing precious time at the height of the pandemic.

We're Fighting COVID One-Handed. To End This Pandemic, Get Local Health Officials Better Data – WBUR, Jan. 6
In this op-ed, health professionals emphasize the need to strengthen our public health data systems to deploy interventions to stop the spread of COVID-19 and to better prepare for future pandemics.

Biden's Most Daunting Challenges, According to Public Health Experts – PBS News Hour, Jan. 5
Health policy experts talk about the most significant public health issues that the Biden administration will inherit, including the federal response to the COVID-19 pandemic, Medicaid expansion and the future of the Affordable Care Act, and inequities in health care.

EPA Finalizes 'Secret Science' Rule, Limiting Use of Public Health Research – The Hill, Jan. 5
The EPA finalized a rule today that limits the type of studies the agency can consider when crafting policies, which some public health and environmental advocates say will "restrict the EPA's ability to consider landmark public health research and other studies that do not make their underlying data public."

Early Vaccination in Prisons, a Public Health Priority, Proves Politically Charged – Philadelphia Inquirer, Jan. 2
Experts have advised that state's focus first on vaccinating vulnerable workers and those in high-risk living settings—including jails and prisons which hold a disproportionate share of people of color and have reported some of the most virulent coronavirus outbreaks. The backlash in response to Colorado's plan to vaccinate its inmate population highlights a dilemma for states in their efforts to stop the virus where it is most destructive.
The Network for Public Health Law provides information and technical assistance on issues related to public health. The legal information and assistance provided in this document do not constitute legal advice or legal representation. For legal advice, readers should consult a lawyer in their state.
Support for the Network is provided by the Robert Wood Johnson Foundation (RWJF). The views expressed in this post do not represent the views of (and should not be attributed to) RWJF.