Public Health Law News Round-Up – Fall 2019
November 21, 2019
Overview
Public health law and policy stories that made headlines recently include expanding Medicaid access post-postpartum to improve maternal mortality rates; how changes in naloxone access laws could save thousands of lives; Juul's suspension of flavored e-cigarette product sales amid growing scrutiny of its advertising practices; how proposed food-stamp cutbacks could worsen obesity and food insecurity in the U.S.; the first-ever State mandate of late start times for middle and high schools students in response to research on the positive health and wellness impacts of starting school later; and a landmark ruling on supervised injection sites.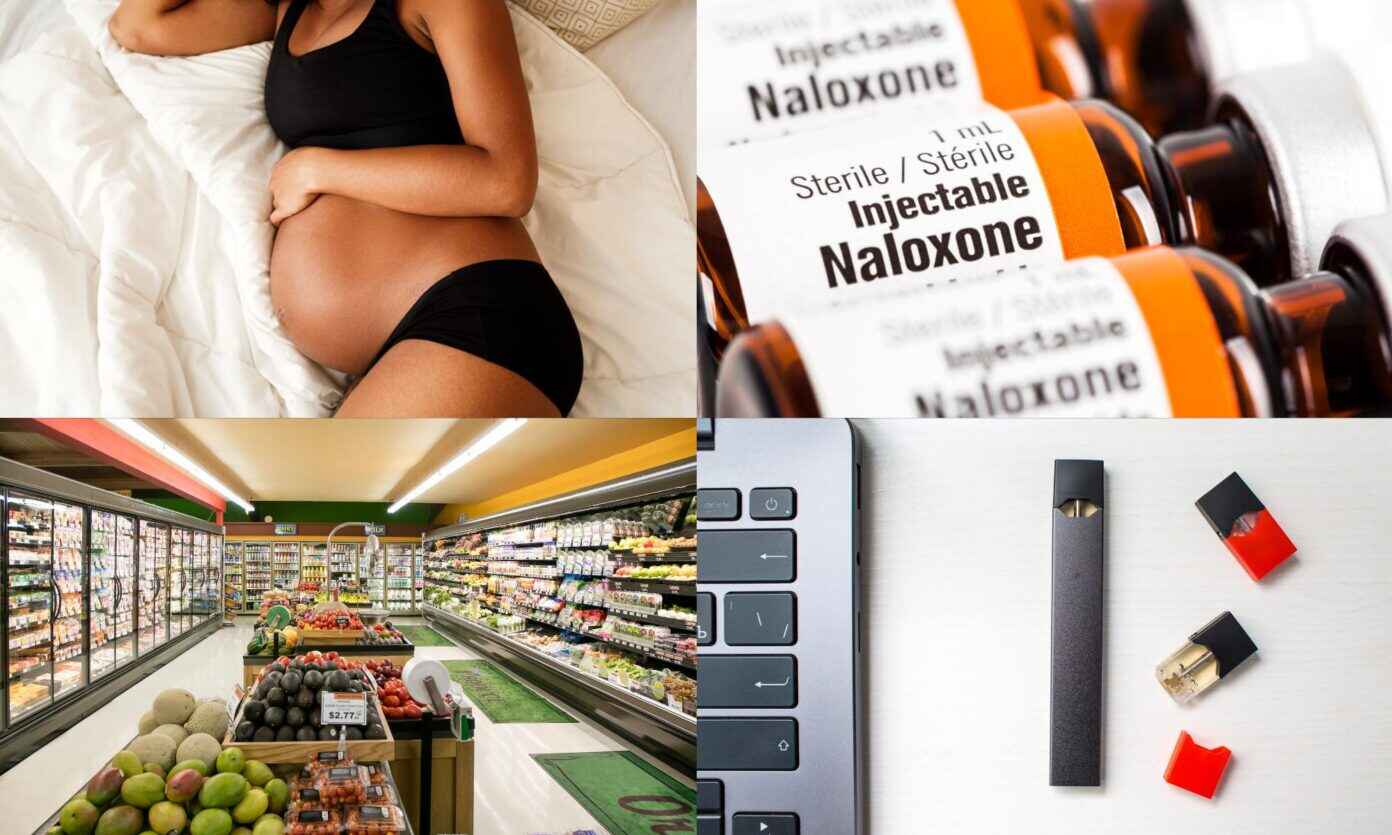 Medicaid Tweak Might Offer Means to Improve U.S. Maternal Health – Kaiser Health News, Nov. 13
About 700 women die in the U.S. every year from pregnancy complications, and 60 percent of those deaths are deemed preventable. To combat what experts consider a "maternal mortality crisis" advocates believe that increasing access to Medicaid for postpartum women could significantly reduce the number of preventable deaths due to pregnancy complications.

Can co-prescribing naloxone prevent deaths among patients at risk of overdose? – Public Health Newswire, Oct. 28
As the opioid crisis continues to unfold, the Network's harm reduction legal expert Corey Davis talks about the thousands of people who might still be alive today if there were more laws making it easier for people to access the overdose reversing drug naloxone.

$260 Million Opioid Settlement Reached at Last Minute with Big Drug Companies – New York Times, Oct. 21
Three of the largest U.S. drug distributors and an opioid manufacturer have reached a $260 million settlement to "avoid the landmark first federal opioid trial" scheduled to begin October 21. The settlement covers two Ohio counties and contributions will be made both in cash and through substantial donations of addiction treatment drugs.

Juul Suspends Sales of Flavored Vapes and Signs Settlement to Stop Marketing to Youth – NPR, Oct. 17
E-cigarette giant Juul Labs announced that it will suspend sales of most of its flavored products. The move comes as the industry faces immense scrutiny for its impact on the surge of under-aged vaping.

Trump administration's proposed food-stamp cutbacks could worsen America's obesity epidemic, public-health experts say – MarketWatch, Oct. 15
The Trump administration's proposed changes to the Supplemental Nutrition Assistance Program would limit automatic eligibility for families that receive other federal public assistance and, according to the Robert Wood Johnson Foundation, could worsen food insecurity for roughly 3 million Americans.

California dreamin': The state becomes the first in the nation to mandate later start times for middle and high schools. Here's why. – Washington Post, Oct. 14
California became the first state to require most middle and high schools to start later in the morning. In signing the legislation into law, California Governor Gavin Newsom said "The science shows that teenage students who start their day later increase their academic performance, attendance, and overall health."

Federal Judges in 3 States Block Trump's 'Public Charge' Rule for Green Cards – NPR, Oct. 11
Federal judges in three states have issued injunctions against the Trump administration's 'public charge' rule, preventing it from taking effect. The rule would make it more difficult for immigrants to obtain green cards if it looks as though they might need assistance from public programs.

California to Make HIV Prevention Drugs Available Without a Prescription – NPR, Oct. 8
California Gov. Gavin Newsom signed a bill that will make HIV-prevention drugs available without a prescription. The bill is meant to increase accessibility to drugs like PEP and PreP – which can reduce the risk of getting HIV from sex by roughly 99%.

US judge: Injection sites don't violate federal drug laws – Associated Press, Oct. 2
In a landmark decision, a federal judge ruled that supervised injection sites designed to prevent overdoses do not violate federal drug laws, paving the way for advocates to open these sites as a method of harm reduction.

New law earmarks millions towards hiring mental health personnel in public schools – ABC, Sep. 26
A new North Carolina law will channel millions of dollars towards hiring school psychologists, counselors, nurses and social workers. The aim is to increase mental health care for students, and comes at a time where teen suicide rates are at a high – nearly doubling since 2010.
The Network for Public Health Law provides information and technical assistance on issues related to public health. The legal information and assistance provided in this post do not constitute legal advice or legal representation. For legal advice, readers should consult a lawyer in their state.
Support for the Network is provided by the Robert Wood Johnson Foundation (RWJF). The views expressed in this post do not necessarily represent the views of, and should not be attributed to, RWJF.