COVID-19
Substance Use Prevention and Harm Reduction
COVID-19 Pandemic and Tobacco Sales in the United States
June 30, 2020
Overview
COVID-19 has unquestionably altered every facet of daily life, including where and how one purchases goods. For those who use tobacco products, including vape products, a patchwork of state laws continues to determine where these products may be sold because of orders classifying businesses as essential and non-essential. Many states classify specialty tobacco and vape shops as non-essential, either eliminating sales or limiting them to delivery only.  Yet tobacco products, including vape devices and liquids, may still be purchased at essential stores, such as convenience stores, gas stations, grocery stores, and pharmacies.  Anecdotal evidence in Maryland indicates that some vape and tobacco shops remained open despite the closure order. Whether and how much access to tobacco products has been constrained in the U.S. is unclear.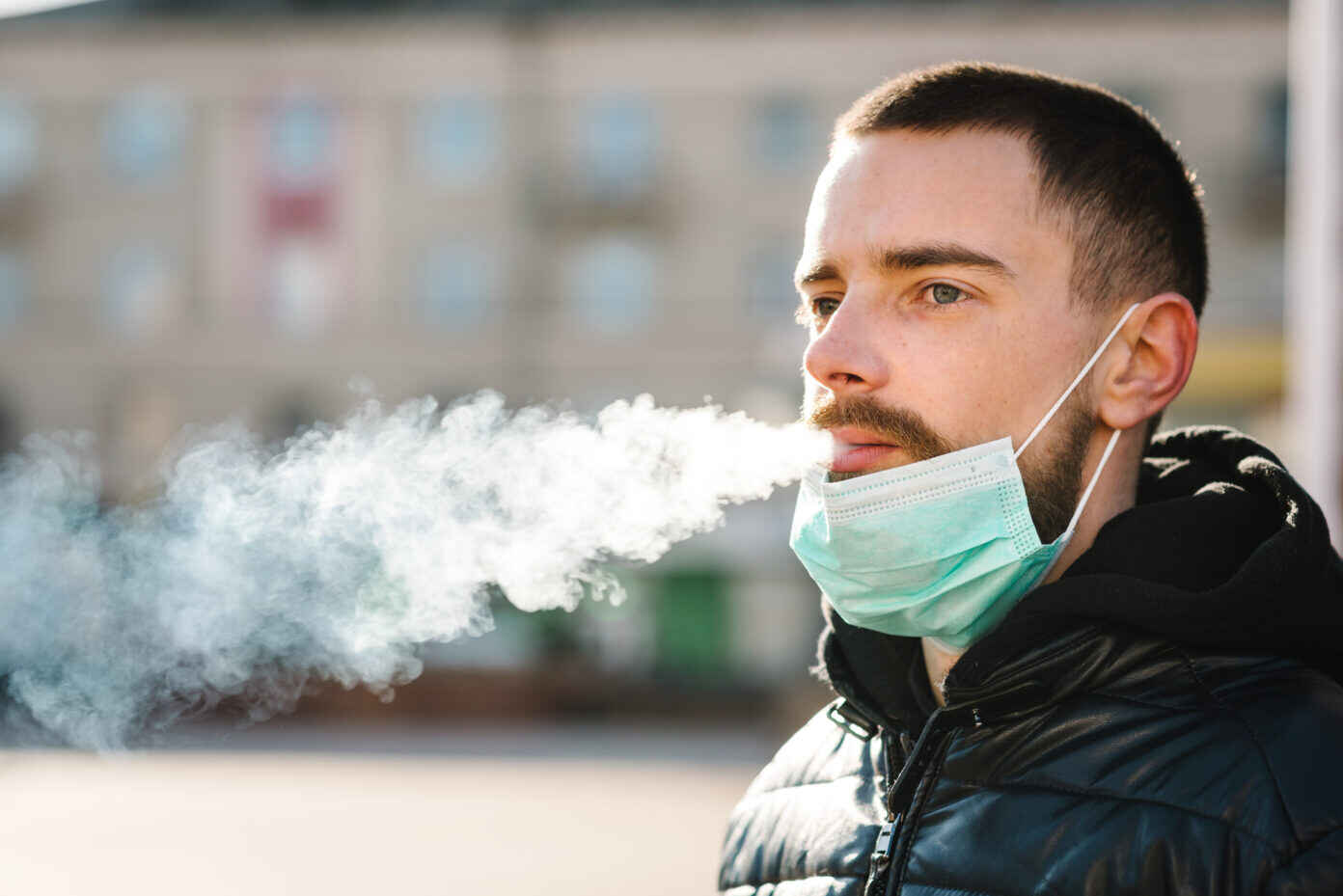 Recognizing the damaging health effects smoking or vaping has on respiratory systems, public health advocates maintain that now is the time for states to more rigorously limit access to or ban tobacco and vape products, even at essential businesses. The biggest push has been for limitations on the sale of vape products, which are popular among youth. While Congress has the authority to prohibit the sale of tobacco and vape products, the U.S. Food and Drug Administration (FDA) is somewhat limited in the steps it can take. Although the Tobacco Control Act gives the FDA authority to regulate tobacco products, it also precludes the FDA from taking certain actions, including banning any class of products, like all cigarettes or smokeless tobacco. This limitation likely applies to banning all vape products, however, vape products remain on the market currently as a result of the FDA exercising enforcement discretion.
Initially, the Tobacco Control Act applied only to cigarettes, smokeless tobacco, and roll-your-own or loose tobacco but the Act gave the FDA authority to deem additional products as subject to its regulatory authority. In 2016, the FDA finalized a rule which deemed all tobacco products, including vape products, as subject to its authority. Among other things, the rule requires the manufacturers of all vape products to obtain authorization from the FDA to sell these by submitting a premarket tobacco product application (PMTA). While the rule allows the FDA to remove these products from the market and prevent the sale until a PMTA is approved, the FDA has instead chosen to allow them to remain on the market so long as an application is submitted by the deadline. In fact, the FDA has extended the deadline to September 9, 2020, due to potential delays resulting from COVID-19.
Although federal action is unlikely, advocates argue that the pandemic presents an opportunity to help those who use tobacco and vape products quit for good. Evidence suggests that easy access to tobacco products makes it more difficult for people who are trying to quit. Reducing availability at essential businesses, coupled with access to nicotine replacement therapy and virtual counseling, could ease this hurdle for many. Additionally, social distancing has drastically limited in-person interactions; the absence of social cues that often trigger smoking (such as socializing at a bar or taking smoke breaks with co-workers) may reduce another barrier.
Many also argue that access to these products should be limited because a growing body of research, including a peer reviewed study, reveals that smokers experience worse outcomes when infected with COVID-19. The Centers for Disease Control (CDC) has classified people who smoke as having increased risk for severe illness from COVID-19. Although there is less evidence examining the relationship between vape products and COVID-19, WHO has indicated that e-cigarettes are harmful and increase the risk of heart disease and lung disorders. Furthermore, because COVID-19 affects the respiratory system, WHO has surmised that the hand-to-mouth action when using e-cigarettes may increase the likelihood of COVID-19 infection.
A population's reduction in smoking may lead to a decrease in hospitalizations generally, which could relieve some hospitals stretched too thin. For this reason, the New York State Academy of Family Physicians has called for a ban on the sale of all tobacco and vaping products during the pandemic.
Many have also expressed concern with marketing by Big Tobacco, electronic cigarette manufacturers, and vape shops during the pandemic, arguing that they are taking advantage of this difficult time in order to increase the sale of their products. For example, in the U.S. free giveaways and pandemic-themed promotions have been identified, such as free protective masks and gear with the purchase of certain products. Additionally, some e-cigarette makers have made questionable health claims during this time. On Instagram, for example, Bidi Vapor states, "A bidi stick a day keeps the pulmonologist away."
Yet a ban on tobacco products during the pandemic removes a daily liberty, habit and addiction from people during a time of high stress and anxiety, which may be potentially harmful. Access to mental health services and in-person treatment options may be more difficult to obtain during a time when the need for these services has increased. Eliminating retail tobacco product sales may hurt the economy in the short term and instigate black market sales.
Other countries have taken a national approach to banning or limiting the sale of tobacco products. For example, Botswana, India and South Africa have implemented outright bans on tobacco product sales. France has banned the online sale of "nicotine" products and has limited the sale in pharmacies by only permitting people to buy one month's supply at a time. However, most countries, including Italy and France, continue to permit tobacco shops to remain open.
As with so many public health measures put in place, the diversity of tobacco regulation during the pandemic creates the opportunity for comparing the impact of differing policies on quit attempts and health outcomes. While in the U.S., state and local governments will continue to grapple with the right limitations on access, the tobacco control research community will benefit from studying these outcomes across the globe.
This post was developed by Brooke Torton, Staff Attorney, Network for Public Health Law – Eastern Region Office.
The Network for Public Health Law provides information and technical assistance on issues related to public health. The legal information and assistance provided in this document do not constitute legal advice or legal representation. For legal advice, readers should consult a lawyer in their state.
Support for the Network is provided by the Robert Wood Johnson Foundation (RWJF). The views expressed in this post do not represent the views of (and should not be attributed to) RWJF.