Neighborhood and Built Environment
Food and Housing Insecurity Measures
Environment, Climate and Health
Healthy and Affordable Housing
Maternal and Child Health
Mechanisms for Advancing Health Equity
Mechanisms for Advancing Public Health
Mental Health and Well-Being
Reproductive Health and Equity 
A Renewed Focus on Health Equity in Wayne County, Michigan
April 19, 2023
Overview
Wayne County Michigan, which encompasses the City of Detroit, has a large population of residents of color and also faces some of the state's most significant challenges. Recently, the county has taken significant measures to address acknowledged disparities in health outcomes, creating Regional Health Equity Advisory Councils, a Black Leadership Council, and committing $300 million to support more than 100 programs to further positive, systemic change.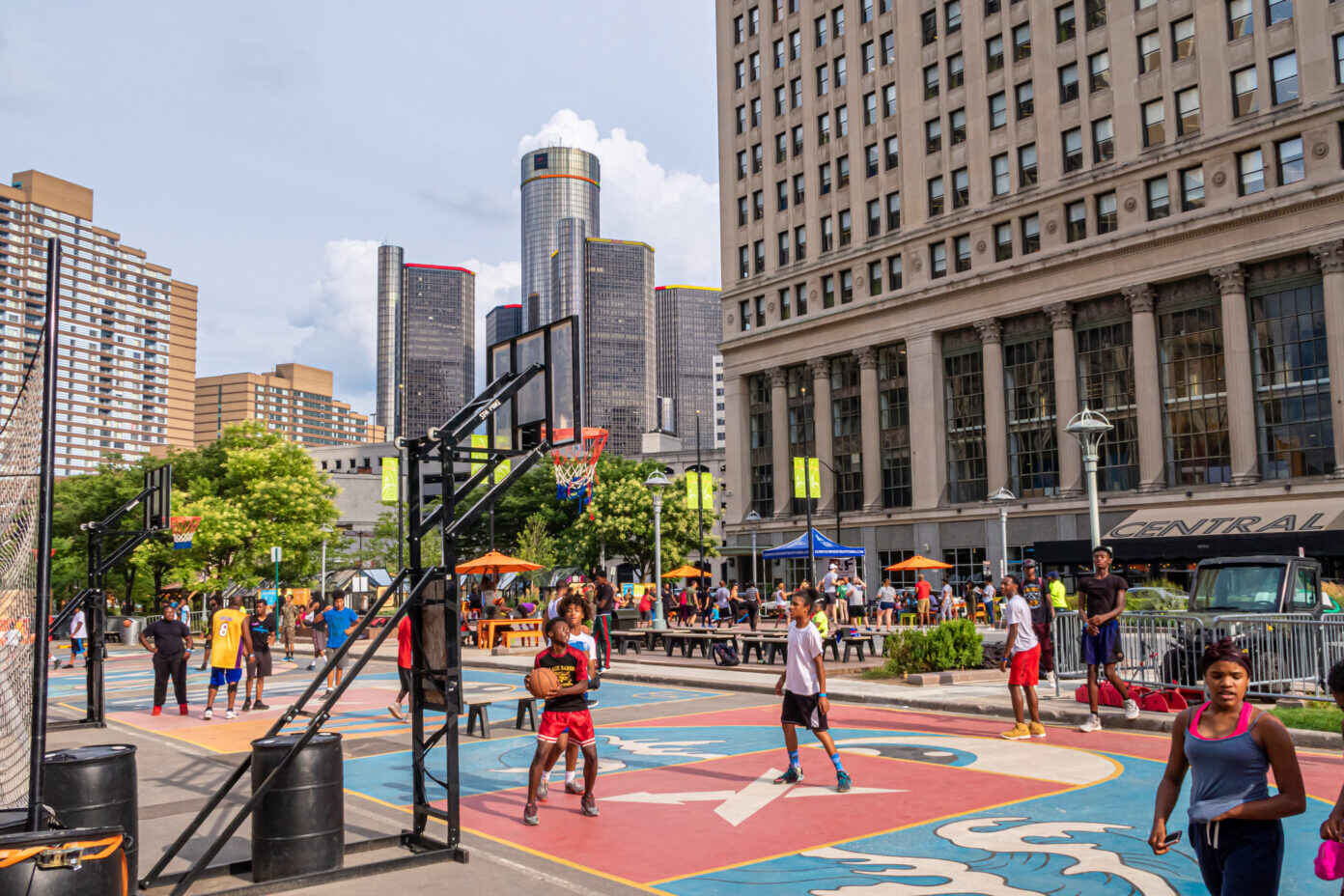 On December 1, 2022, Wayne County, Michigan announced the appointment of Dr. Abdul El-Sayed as incoming Director for the Health, Human and Veterans Services Department effective March 1, 2023. Remarking on the appointment, Dr. El-Sayed said, "As we emerge from the pandemic, our department will seek to empower Wayne County residents through a focus on health equity and access, maternal and child health, senior wellbeing, and environmental health while implementing all the pandemic has taught us about keeping our communities safe in times of public health challenge."
This health equity focus is appropriate for Wayne County, which has a large population of residents of color and also faces some of the state's most significant challenges. As of the 2020 United States Census, the population of Wayne County, which encompasses the City of Detroit, was 1,793,561. Of that population, 37.6 percent of residents identified as Black or African American, representing nearly half of all Black or African American people in the entire state. Another 6.5 percent identified as Hispanic, 3.6 percent identified as Asian, and less than one percent identified as American Indian and Alaska Native or as Native Hawaiian and Pacific Islander. The Census did not capture the considerable number of residents who identify as Middle Eastern.
In the most recent county profile in the 2023 update to County Health Rankings & Roadmaps, Wayne comes in dead last at 83, while Wayne's wealthy next-door neighbor, Oakland County, stands at number five. Among other issues, Wayne County has a significantly higher Premature Death Disparity Index and Segregation Index score compared to the national median, indicating that the county has both a larger gap in premature deaths across racial and ethnic groups and is less racially and ethnically integrated than other communities. Wayne also has higher levels of air toxics exposure and low birthweight, while performing worse than the national median on several social and economic indicators, including unemployment, poverty, and housing cost burden. The inequities are especially stark when contrasting Wayne's COVID-19 health data to Oakland's. As of March 2023, Oakland suffered 361.6 COVID-19 deaths per 100,000 people, while Wayne suffered 519.5. There is also a significant disparity between the overall percentage of adults reporting poor or fair health in Oakland (14.2 percent) compared to Wayne (22.1 percent).
Acknowledging the disparities in health outcomes for people of color in Michigan, the Michigan Department of Health and Human Services announced 11 Regional Health Equity Advisory Councils (RHEACs) created "to help combat health disparities in underserved and rural areas across the state." One of the RHEACs has since been established in Wayne County. A Request for Applications was sent last spring to organizations to support the formation of and oversee the RHEACs as backbone organizations (BBOs). BBOs will support the RHEACs in attaining five key goals:
(1) a reduction in COVID-19 disparities in impacted communities, specifically among the state's five racial ethnic minority populations (African American, American Indian/Alaska Native, Arab and Chaldean American, Asian American and Pacific Islander, and Hispanic populations);
(2) planned reduction of community identified priority risk factors;
(3) development and implementation of practices and policies to promote equity and reduce health disparities;
(4) equitable distribution and efficient use of resources to support affected communities including organizations and community leaders – both existing and emerging; and
(5) community driven, not agency driven, decision making and priority setting.
Establishing RHEACs is consistent with other efforts across the state to recognize and respond to racial health disparities. In fact, 20 different counties and cities throughout Michigan have declared racism as a public health crisis. Declarations of racism as a public health crisis are policy tools used to spur action to address health inequity. At the state level, Michigan Governor Gretchen Whitmer signed Executive Directive No. 2020-9 on August 5, 2020, Addressing Racism as a Public Health Crisis, citing health disparities for people of color in Michigan, including the disproportionate rate of COVID-19 deaths for Michigan's African American residents. Governor Whitmer also signed Executive Order 2020-163, creating the Black Leadership Advisory Council (BLAC) to act in an advisory capacity and to develop, review, and recommend policies and actions aimed at eradicating and preventing discrimination and racial inequity in the state. In 2022, BLAC produced its first report of recommendations to the Governor.
Collective efforts, including Dr. El-Sayed's appointment, the creation of RHEACs and BLAC, and existing Wayne County assets like the Wayne Metropolitan Community Action Agency, boasting a budget of over $300 million to support more than 100 programs, have the potential to further positive, systemic change for Wayne's residents of color, ultimately leading to better health outcomes.
This post was written by Phyllis Jeden, J.D., Senior Attorney, Network for Public Health Law – Southeastern Region Office.
The Network for Public Health Law provides information and technical assistance on issues related to public health. The legal information and assistance provided in this document do not constitute legal advice or legal representation. For legal advice, readers should consult a lawyer in their state.
Support for the Network is provided by the Robert Wood Johnson Foundation (RWJF). The views expressed in this post do not represent the views of (and should not be attributed to) RWJF.